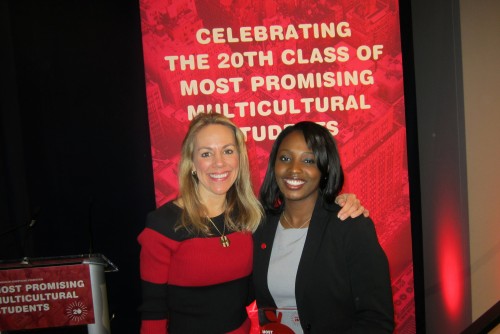 Dimon Paige, a senior majoring in public relations and corporate communications, is one of just 50 in the country named a Most Promising Multicultural Student for 2016 by the American Advertising Federation. Paige, 21, of Kansas City, was the only student from Missouri named to the group.
Because of the award, Paige and her nominator, Professor Krista Tucciarone, attended a week-long event in New York City Feb. 15-19, including industry immersion, a career expo, a professional development workshop, and the Building Bridges for our Future luncheon, at which Paige and Lindenwood University were recognized. This is, in fact, the second consecutive year Lindenwood has been recognized at the event, as two of its students won the honor in 2015: Andrea Ruano and Sheanelle Chambers. U.S. citizens of African, Asian, Latino, Native American, or Pacific Islander descent are eligible for the award.
Perhaps not coincidentally, Tucciarone, who is chair of Lindenwood's Advertising, Public Relations: Corporate Communications Department, was the nominator for Ruano and Chambers as well, though she deflects any credit for their recognition.
"If the students were not on board, there would be no success," Tucciarone said. "I tell the students' story to the judges. I believe that when I articulate those stories, the judges truly see the potential the students have. If I'm not connecting with the judges on an emotional level, I'm not doing my job."
For Paige's part, she had to write five essays, sit for a business photo, submit her transcripts, and come up with a hashtag and tagline for herself, all in a period of about three weeks.
"I stayed up, sometimes until 2 a.m., writing and rewriting essays," Paige said. "It was a lot of hard work, but it was a learning process. If you really want something, you have to sleep it and breathe it."
Paige said she was drawn to the communications field because of the flexibility of it.
"I like advertising—getting people to see an idea I've made," Paige said. "It's always changing. I'll never be doing the same thing."
About a month after she submitted her application, she received an acceptance letter by email.
"At first, I was confused," Paige said. "I wanted to make sure it was what I thought it was. It is such a big thing—50 in the country, the only one in Missouri. It was exciting. I'm the first person in my family to go to college."
Paige said she was looking forward to going to New York, being around professionals from the industry, networking, and learning.
"I'll get to see what I'll potentially be doing in my career, attending workshops, and learning new things about the field that I can use," Paige said.