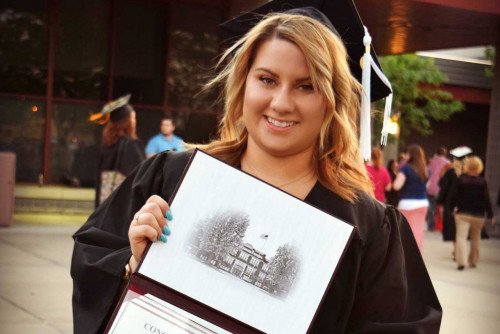 Danielle Laramore, classes of 2017 and 2018, came to Lindenwood University-Belleville after transferring as an undergraduate student to complete her bachelor's degree, and she credits the relationships she built at Lindenwood Belleville as the reason she is now poised to start law school at Southern Illinois University Carbondale in August 2019.
"Being from a small town, I was used to knowing all my teachers, and they knew me," Laramore said. "I needed that same connection in the university setting."
Laramore, who is from Sparta, Ill., fell in love with, Lindenwood University-Belleville upon her transfer as an undergraduate.
"I knew right away that Lindenwood Belleville was the right school for me," said Laramore, who completed a bachelor's degree in English in 2017 and a master's degree in criminal justice in 2018.
"The teachers knew who I was, I saw them all over campus, and my classes only had about 20 students in them each," she said.
Another advantage of studying at Lindenwood Belleville, according to Laramore, is that she was able to explore other majors, which enhanced her academic and professional career.
"Originally, my plan was to teach English at the high school level, but then in my junior year I took a couple criminal justice classes to fill electives and I kind of got addicted to them," she said. "My interest in the field grew as I became more engaged with the criminal justice classes and professors. Also, a lot of my family members are law enforcement professionals, so taking those classes sparked my interest."
Laramore notes professors like Dr. Thomas Trice and Dr. Shauntey James as individuals who helped shape her interest and career goals in the field of criminal justice.
"Dr. Trice encouraged me to dive deeper into the criminal justice realm," she explained. "He pushed me in his classes and knew that I was a strong student and could do better work. He encouraged me to keep pushing for my dreams after I had my son, and he's mentored me for four years now. I wouldn't be where I am if it weren't for him."
Because of her professors' guidance, Laramore committed to applying to law schools. In September 2018, she graduated with her master's degree, took the LSAT in November, applied to SIUC in January, and found out in February she was accepted.
"I'm so excited for the next chapter of my life," she said. "Lindenwood was a good transition for someone like me; it offered me a different world view but was close to home and had a close-knit feel. I am still very close with the majority of my Lindenwood professors, and I still communicate with them through email or we meet for lunch. I know it's because of the support and guidance they gave that I was confident and strong-willed enough to take this next step."