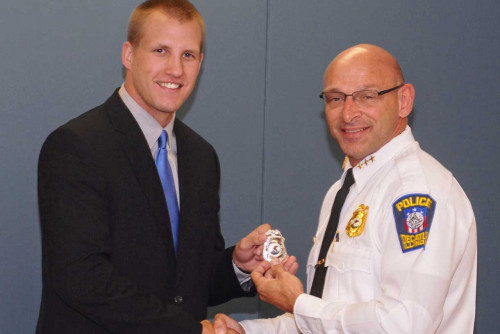 Illinois native Clayton Zilz knew he wanted to be a police officer from a young age. Now, as a Lindenwood University-Belleville alumnus, he won't have to travel very far to start his new career in law enforcement. After graduating in December 2017 with a bachelor's degree in criminal justice, Zilz had just a short eight-month gap before securing a position with the Decatur Illinois Police Department.
While originally attending Lindenwood to play football, Zilz always knew that athletics was not the end goal. After playing for the Lynx his freshman year, he left the team but decided to stay at the university for its criminal justice program and community.
"As a whole, I enjoyed the smaller campus, so I was able to meet a lot of great people and make friends," said Zilz. "The smaller class sizes let professors care about the individual students, so I wasn't just another face passing through a class, which worked with my learning style."
With help from his academic advisor and mentor, Criminology and Criminal Justice Professor Joe Zlatic, Zilz was able to graduate early to get a jump start on his career.
"I have wanted to be a police officer for as long as I can remember, and after the amount of time and work that I put in trying to become one, being sworn in as an officer was such a rewarding feeling," Zilz said.
Zilz also cites Zlatic's Professional Standards class, which gave him exposure to real-world skills that he felt were important to his job search.
In the summer of 2017, Zilz completed an internship with the Decatur Police Department with the help of criminal justice instructor Judge (Ret.) Annette Eckert. Zilz said that the experience as an intern caused a spark and confirmed that law enforcement was what he wanted to do, and Decatur was where he wanted to do it. Less than 30 minutes from his hometown of Maroa, Ill., Zilz looks forward to staying in central Illinois as he beings his career with the Decatur Police Department.
Zilz was officially sworn into the Decatur Police Department on September 28.
"I felt a lot of pride," Zilz said. "The Decatur Police Department is a great department full of great officers, and I am proud and thankful to be able to be a part of that team, and I strive to uphold the mission of the Decatur Police, which is to preserve peace, order, and safety."
As a new officer, Zilz reported to the Macon County Law Enforcement Training Center October 1 for 14 weeks of training, after which he will spend the next three months working alongside a field training officer. Following completion of this training period, Zilz will be assigned an area as a patrol officer.
"The biggest impact that I hope to have on the City of Decatur is to bring police officers and citizens closer together," said Zilz on his new role. "I hope that when the citizens see me, they can say that I was a genuine person who cared about the people and the community that I serve. I hope that maybe I can change a few people's opinions about police officers from negative to positive."
Looking back at his time with Lindenwood, Zilz is thankful to everyone who helped him along the way, including family, friends, and the staff at Lindenwood.
"I wouldn't be where I am at without the experience I received at Lindenwood Belleville," said Zilz.
Cutline: Lindenwood University-Belleville alumnus Clayton Zilz was recently sworn into the Decatur (Ill.) Police Department by Chief of Police James E. Getz Jr.