Among her many accomplishments the past year, a Lindenwood Belleville criminal justice student not only secured a prestigious internship with the United States Attorney's Office for the Southern District of Illinois in Fairview Heights but also wowed her supervisor by doing her job to a high standard he said has rarely been equaled.
"Alyssa Flynn is among the top five percent of the intern students this office has sponsored," Mario Jimenez, an intelligence specialist with the U.S. Department of Justice who served as the student's supervisor, wrote in his evaluation. "She distinguished herself by exceptionally superior meritorious performance exhibiting an unparalleled ability to accomplish any mission assigned."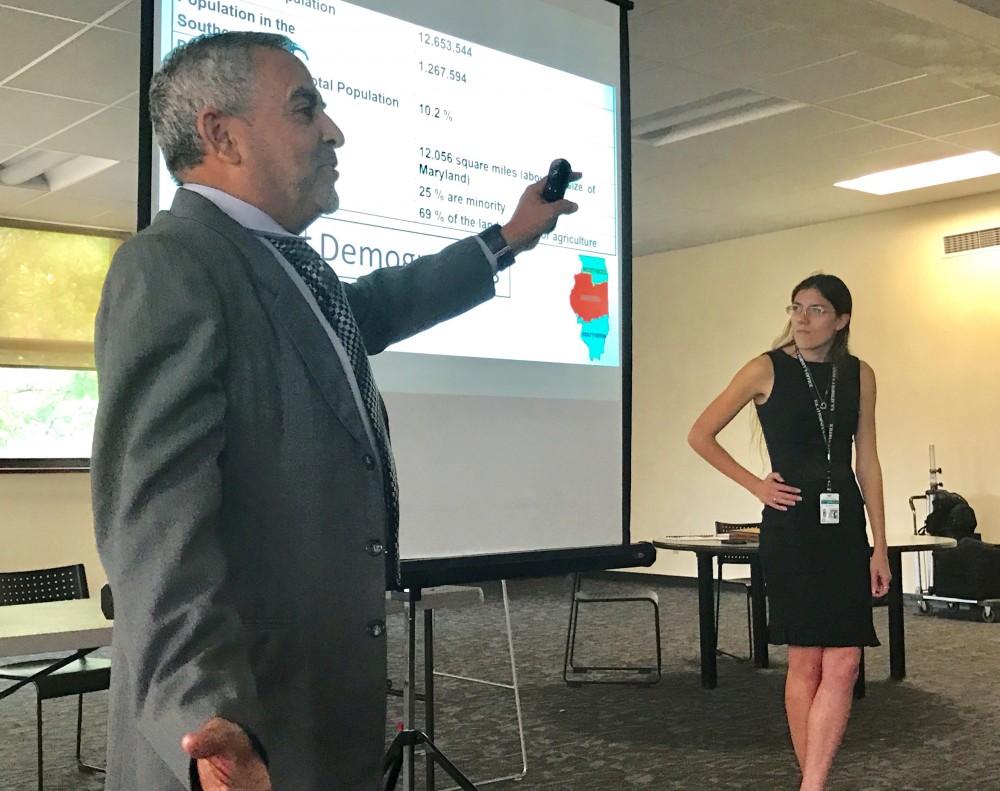 Flynn's remarkable performance contributed to her being presented with Lindenwood University's prestigious Easton Award May 4 at its 2017 Honors Convocation.
Flynn, a senior from Dupo, Ill., said she was excited to have the chance to do research and other real casework during her internship, and she was determined to make the most of her chance. She said one of the reasons she believes she did so well during the internship was that she was treated like a regular staff member.
"I had the opportunity to network with federal employees of the Department of Justice--including attorneys, law enforcement, and even postal inspectors--and gain real experience in the criminal justice field," said Flynn. "I was not just doing things like running to get my supervisors coffee or using the photocopy machine, but I was researching various topics, including homicide, heroin, and police codes of ethics, to name a few."
Jimenez said staff members were pleasantly surprised to see Flynn turn in research and data analysis work similar in quality to people who have been in the field for years. They said they'd like to see her continue in the field because their office could certainly use an employee with her skills. Flynn showed off some of her work with the Department of Justice Southern District of Illinois April 21 during a half-hour presentation of research on opioid drug use she gathered and organized during her internship.
The glowing report on Flynn made retired Circuit Judge Annette Eckert extremely proud. Eckert, who now works recruiting students and coordinating internship opportunities in the Criminal Justice Department at Lindenwood Belleville, said she is continuously impressed by Flynn's performance.
"Getting an internship with the U.S. Attorney's Office is an incredible opportunity," said Eckert. "Alyssa made the most of it by really impressing the people she worked with. They said she wasn't doing the quality of work they'd expect from an intern. It was the work of a much more experienced employee. She made quite an impression."
The Easton and Sibley awards are named in honor of Lindenwood founders Mary Easton Sibley and George C. Sibley and are awarded to students who exemplify the ideals of scholarship, leadership, loyalty, and service to the university and the community. The Easton Award goes to a female student, and the Sibley Award is presented to a male student.
The awards are jointly sponsored by the Lindenwood Student Government Association and the Alumni Association. Flynn, the Lindenwood Belleville Criminal Justice Department student of the year in 2015-16, was honored in March with an invitation to a criminal justice conference, an opportunity usually reserved for graduate students. Joe Zlatic, assistant professor and chairman of Lindenwood University-Belleville's Criminal Justice Department, said Flynn impressed so much that the university plans to open similar invitations to other undergraduate students in the future.
In the photo, Flynn listens while her supervisor, Mario Jimenez, speaks during a presentation about the research she did during her internship with the U.S. Attorney's Office.