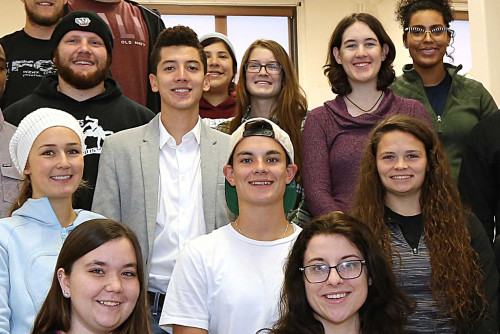 Students studying criminal justice at Lindenwood University-Belleville will participate in the department's White-Collar Crime Lobbyist event on Wednesday, Nov. 30, at 1 p.m. in Old Main Hall, room 301. During the 50-minute event, students will debate in front of a panel of judges, students, faculty, and community members in order to disseminate information concerning the topic of white collar crimes.
"Often white-collar crime goes unnoticed within society," said Dr. Shauntey James, criminal justice professor. "So, the purpose of this event is to disseminate information to the community concerning white-collar criminals. The information will vary from aspects like the cost of white-collar crime to the critical analysis of the lack of sanctions for these types of crimes."
According to James, unlike the traditional presentation format, students will have to quickly engage the audience in their areas of focus, and participants will have the option to venture into numerous classrooms to listen to students as they disseminate their information. The goal is for students to make the most compelling argument in order to elicit the most interest from the panel of the participants.
"This project is valuable because it strongly encourages the student to hone their adaptive and critical thinking skills," said James. "Each student must work with their team members to adjust to a prepared dialogue, but they also must adapt their messaging and argument as the climate of the room will change. The fluid change of individuals in the room can support or hinder the presentation process."
For more information about this event, contact Dr. James at SJames@lindenwood.edu.