A four-person team of Bryce Lickfield, Haili Loftin, Shelby Basham, James Bost, and Katie Scoopmire (who is not pictured) came out on top among teams of Lindenwood students after a grueling, day-long battle in Lindenwood University-Belleville's Fourth Annual Judge Annette Eckert Mock Trial Competition.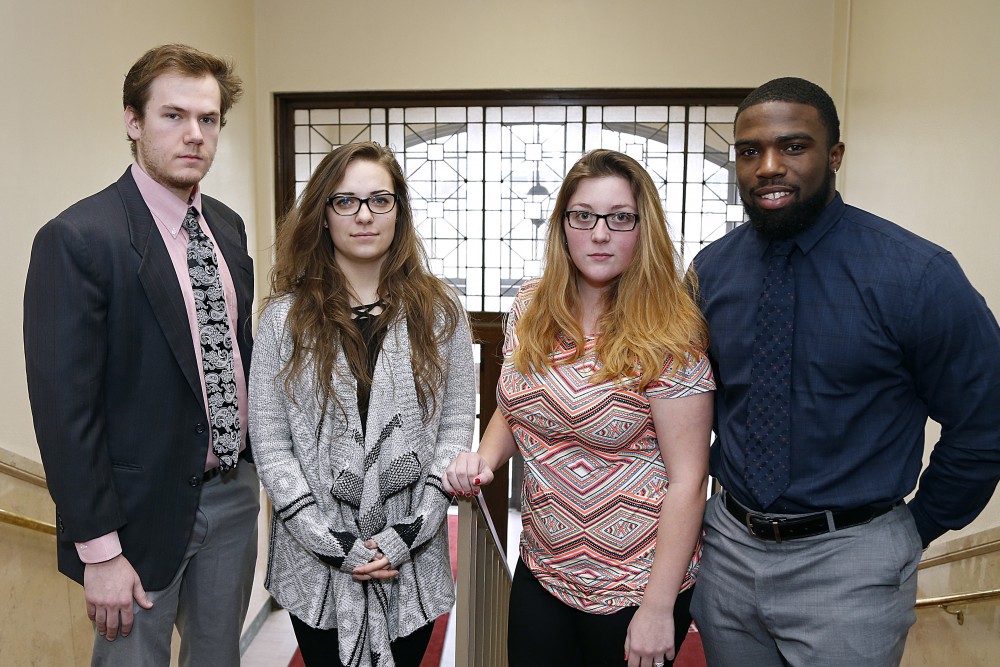 "The rounds get more and more difficult as the competition goes on, so making it all the way to the end isn't an easy thing," said Associate Professor of Criminal Justice Dr. Shauntey James, organizer of the mock trials. "We got quite a few positive comments about the participants from local legal professionals who came to judge. It's exciting to see how far we've come in just a few years."
The theme of the competition was a civil court case on the topic of age discrimination. About 40 people, including area legal professionals and parents of participants, watched the mock trials, which started at 8 a.m. and continued until after 5 p.m.
James said the competition is fun, but it's also very educational, bringing to life lessons that are learned in a classroom.
"The focus of why we do mock trials is that it gives the student the opportunities to use skill sets they gain from all their (criminal justice) classes," James said. "We put them in 'firms,' and they compete to be the last firm standing. They get evidence and put it all together to try to build a winning case. It brings textbook knowledge to the experiential."
Students work long hours to prepare themselves for any twists and turns that could come up in their cases.
"The winners get their names on a plaque, but besides that, the real prize is braggin' rights," James said. "Don't underestimate the importance of braggin' rights. I have heard past winners tell the members of their current firm 'look, I have a reputation to uphold,' so you know they're serious about this."
The investigators, attorneys, and other principals in the mock trials are students in Lindenwood Belleville's Criminal Investigation class. But witnesses are volunteers from outside the class or even outside the Criminal Justice Department.
A total of 24 students participated Saturday. Doing well in the local competition is a part of the tryout process to be one of 20 students who will participate on the national team next academic year, James said.
Retired Circuit Court Judge Annette Eckert, who works as a recruiter in Lindenwood Belleville's Criminal Justice Department, said was amazed with students' dedication to the mock trials.
"This is an event that has really grown in just a few years, and it's something the students really look forward to," said Eckert. "We get a lot of help from the legal professionals in the community, and we're very grateful for their support."
Local attorneys who donated their time were: Agnes Bugaj, Richard J. Coffee, Bernadette Schrempp, Patrick Sullivan, and Matt Young.
At the end of the mock trials, Dr. Cindy Manjounes, dean of the School of Accelerated Degree Programs on the Belleville campus, dedicated the closing ceremony to Lindenwood Belleville Dean of Students Angela Wingo-Rust, who passed away last year. According to Manjounes and James, Wingo-Rust was key in helping establish the mock trials and in allowing students and participants the facilities and resources they need to practice.