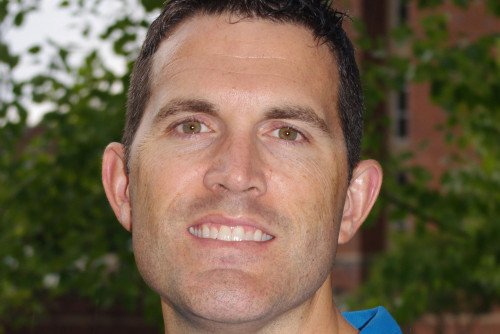 Three current and former Lindenwood students, along with a faculty member, have published an article titled Nutritional and Supplementation Strategies to Prevent and Attenuate Exercise-Induced Muscle Damage: a Brief Review in the peer-reviewed journal, Sports Medicine-Open.
Patrick Harty, a current graduate student; Megan Cottet, a former graduate student and current instructor; and James Malloy, a current undergraduate student in the School of Health Sciences were authors on the paper along with to Dr. Chad Kerksick, associate professor of exercise science and director of the Exercise and Performance Nutrition Laboratory.
The paper discusses athletes minimizing soreness and maximizing their recovery from strenuous exercise.
"Several different nutritional ingredients have been researched for their ability to help with this recovery," Kerksick said. "Several papers have been published, but few papers have summarized the outcomes from these studies."
Kerksick said the paper was a true team effort spanning several semesters.
"Megan Cottet began the work as a graduate student for an independent study," Kerksick said. "Then, we all got busy for a while, and then one semester Patrick Harty agreed to finalize the paper as part of an independent study for his master's degree. James Malloy was instrumental in gathering and summarizing all of the studies and helping to build the tables and prepared a few of the sections in the paper. I helped provided oversight, additional papers, interpretations, and edits along the way."
The paper took between eight and ten weeks to organize, prepare for the initial draft, finish organizing, and submit to the journal.
Kerksick said he is proud of this paper and the work of the team.
"At the end of this semester, I will have been at Lindenwood for five years," Kerksick said. "During that time, we have seen exponential growth in the number of students involved in all aspects of the research process. Of the 82 peer-reviewed papers I have, this one stands out because only current or former Lindenwood students are co-authors on the paper and it has a combination of graduate and undergraduate students involved. The paper is published in a very high-quality, peer-reviewed journal with an acceptance rate of approximately 25 percent. This speaks to the significant effort and work required by our students, and it will be a continual resource and reference for current and future investigations."
The article is available on the Sports Medicine-Open website.
For information about the Lindenwood master's degree in Health Sciences, visit the program's website.