Lindenwood University ushered in a new era in higher education in Belleville today with the beginning of its historic first term of daytime classes ever offered at the extension campus. The university welcomed an inaugural class of more than 70 undergraduate students.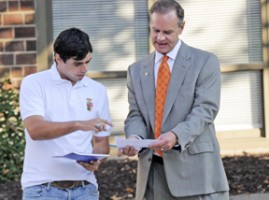 "The well-dedicated staff and faculty arrived here very early this morning and were full of excitement that this day had finally arrived," said Jerry Bladdick, vice president and chief administrative officer at the Belleville campus. "The students were also surprised and happy that staff was there to offer them free coffee and doughnuts."
Belleville employees also offered assistance in directing students to their classrooms and extended invitations to the school's first ever formal convocation ceremony at 9 a.m. on Thursday, Aug. 27.
"The day has gone very, very well," said Bladdick, pictured above assisting Daniele Stabile. "We are really enjoying getting to know our students and them getting to know us. It's a good thing to form these relationships early on."
The new class of enrolled junior- and senior-level students will notice remodeled classrooms complete with the latest technologies, a new student lounge, and a new café area. Members of Belleville's new Lindenwood Lynx volleyball can make use of the renovated gymnasium, while the soccer team can take pride in the construction of a new soccer field featuring a sophisticated sprinkler system, seats, and a scoreboard.