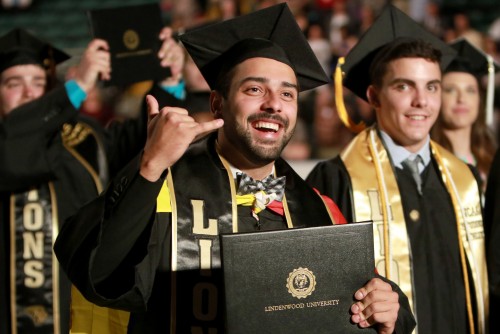 Lindenwood University will host its Winter Commencement Saturday, Dec. 16, 2017, at noon in the St. Charles Family Arena. About 1,000 graduates will receive their degrees at the ceremony.
Students should arrive by 11 a.m. at Gate 4 to check in; the gate will open at 10:30 a.m. The university will confer all Doctor of Education, Education Specialist, master's, and undergraduate degrees. Tickets are not required to attend the ceremony. Guest seating is available on a first-come, first-served basis. The guest gates (1, 2, or 3) will open at 10:30 a.m.
The commencement ceremony will feature graduates from Lindenwood University and Lindenwood University–Belleville, which will have about 135 graduates. Both campuses also hold separate commencement ceremonies in May for graduate and undergraduate students.
The new look of the ceremony introduced in May 2017 will return with a 30-foot video screen, pre-recorded music, a streamlined script, and several video presentations that focus on the students as they reach the end of their academic journeys.
The Family Arena is located at 2002 Arena Parkway, 1.25 miles south of I-70 and Fifth Street.