Senior Devon Williams said he was surprised and honored to be named as the first recipient of Lindenwood University-Belleville's new Dr. Martin Luther King Jr. Award.
Williams learned of the honor Monday during the school's inaugural prayer breakfast in honor of the slain civil rights leader.
A senior exercise science major from Chicago, Williams said he tries to be a leader and to be helpful to others in order to build up the community around him. He said winning accolades for his efforts never entered his mind before he heard his name announced as the recipient of the new award.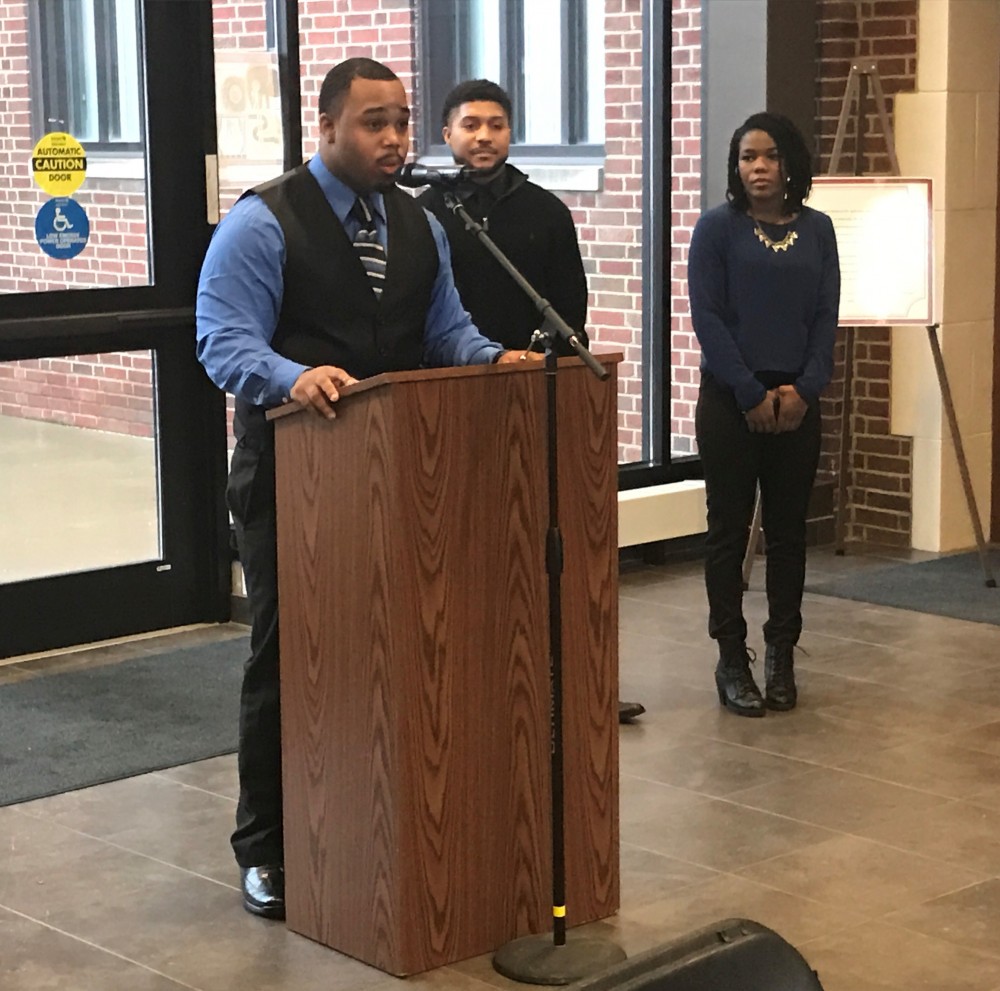 "I just love meeting and helping people," Williams said. "I didn't become a leader to win an award. I did it for the betterment of the Lindenwood community."
Dr. Thomas Trice, faculty sponsor of Lindenwood Belleville's Black Student Union, said the MLK Award was created as a way to honor a student, university staff member, or person in the community every year for being a leader, bringing people of all races together, and making the community a better place.
About 50 people attended the university's first MLK Prayer Breakfast in the campus welcome center. The guests, including Belleville Mayor Mark Eckert and Ward 2 Alderwoman Jane Pusa, enjoyed scrambled eggs and bacon while listening to several speakers discuss stories about Martin Luther King, Jr., that they found to be inspiring.
Lindenwood Belleville President Brett Barger said he has a passion for reading books about King, whom he said he most admires for the iconic leader's bravery, humility, and dedication to bringing peace and love to a divided and violent world. He told a story of a time King was giving a speech when he learned that his home, with his family inside, had been fire bombed.
King, according to Barger, dispersed an angry group of supporters after arriving at his house to learn his wife and children were shaken but not seriously injured. They were ready to fight back. But King wouldn't be tempted.
"Don't get panicky. Don't do anything panicky," Barger quoted King as saying. "Don't get your weapons. If you have weapons, take them home. He who lives by the sword will perish by the sword. Remember that is what Jesus said. We are not advocating violence. We want to love our enemies. I want you to love our enemies. Be good to them. This is what we must live by. We must meet hate with love. I did not start this boycott. I was asked by you to serve as your spokesman. I want it to be known the length and breadth of this land that if I am stopped, this movement will not stop. If I am stopped, our work will not stop. For what we are doing is right. What we are doing is just. And God is with us."
Barger said he was reluctant to share the story in front of an audience because it makes him choked up to think about it. But he thought King's reaction to the events of that day was too inspirational not to discuss.
"He said you have to meet hate with love because, if it doesn't stop here, when will the violence stop?" said Barger, who noted that, had he not been assassinated in 1968, King would be 88 years old today. "He could still be alive right now. I wonder, what would the world be like if he would have lived?"
Barger said he is hopeful that Lindenwood Belleville's Martin Luther King Day Prayer Breakfast will grow rapidly in the coming years. He said university leaders would be honored to hold a public event every year to reflect on the legacy of a man whose positive impacts on the world can be felt nearly 50 years after his death.