Specializing in literature of the Middle Ages, Dr. Erin Mann comes to Lindenwood University-Belleville from the University of Iowa. Mann earned both her master's and doctorate in English from the University of Iowa and last year served as a visiting assistant professor there. Her teaching interests include sexuality and gender studies, Shakespeare, and Biblical and religious literature and art, to name a few.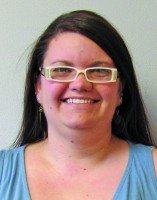 In 2003, Mann began her teaching career in Stegersbach, Austria, where she designed and taught lessons on American language, literature, culture, and history to Austrian students ages 12-19. While she introduced her students to works of literature they had never read before, Mann's students also shaped her as an instructor.
"Because I was responsible for creating an environment where students comprehended and embraced responding to unfamiliar literature and ideas, I learned to balance challenging concepts with humor and dynamic activities," she said.
In addition to teaching numerous courses at the University of Iowa, Mann has presented her research at renowned conferences, such as the International Medieval Congress and the Medieval Association of the Midwest Conference. Her work is also under review for publication at the Medieval Feminist Forum and Modern Philology.
Mann said she is looking forward to her role as assistant professor of English at Lindenwood Belleville this fall.