The Duree Center for Entrepreneurship (DCE) at Lindenwood University, in conjunction with the Economic Development Center, will host the St. Charles Entrepreneurship Symposium from 8 a.m. to noon on Sept. 29, 2012, in the university's Spellmann Center.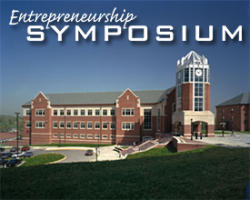 This free event features cutting edge workshops to train and motivate the entrepreneurial leaders of tomorrow. Guest speakers will represent multiple fields of entrepreneurship and offer attendees professional solutions to their unique business issues. Workshops include - Finding Money - Building Your Brand Online - Success From Home - Creative Communication.
Local business representatives from 20 different industries will host tables at the symposium, giving attendees the opportunity to connect and interact with professionals who offer valuable insight into how different industries benefit entrepreneurs.
The Duree Center has a vision to support entrepreneurs and build upon the entrepreneurial spirit within the Greater St. Louis metro area. Lunch will be provided along with a complimentary ticket to Lindenwood University's football game directly following the event.