In only its first year as a student organization at Lindenwood University-Belleville, the Enactus team made school history by taking home the "Rookie of the Year" trophy at the Enactus United States National Exposition in Cincinnati, Ohio, over the students' spring break.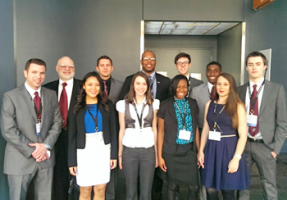 Enactus is an international nonprofit organization consisting of student, academic, and business leaders who are committed to using the power of entrepreneurial action to improve the quality of life and standard of living for people in need. Guided by academic advisors and business experts, the student leaders of Enactus create and implement community empowerment projects around the globe.
The Enactus United States National Exposition is an annual competition that brings together more than 500 teams of students from around the country to showcase their projects for community benefit. With more than 100 of the nation's top companies present, the event is also an excellent networking opportunity for students looking to land jobs or internships at major corporations.
For the Lindenwood Belleville Enactus team, which was founded in spring 2013, this was the first national competition. The group, consisting of 18 students, 10 of whom traveled to Cincinnati for the competition, presented their work on a recycling program, a hunger relief project, and a carbon-reduction project to a panel of judges, who awarded the team "Rookie of the Year."
The participating team members included Sheylon Ryce of Topeka, Kan.; Sara Gil of Donmatias, Columbia; Emily Erdman of New Richmond, Ohio; Miyabi Komatsu of Yoshikawa, Japan; Alonzo Collins of Shiloh, Ill.; Kristian Moon of Edwardsville, Ill.; Timothy Littlejohn of Belleville, Ill.; Michael Manus and Caleb Lence of Anna, Ill.; and Tristan Schachner of Graz, Austria.
"I am extremely proud of everyone on the team," said Dr. Mark Roselli, faculty sponsor for the Lindenwood Belleville Enactus team. "Their efforts during the first year of operation have had a very positive impact on the campus and in the community. I look forward to working with the team next year as they build on this year's success."