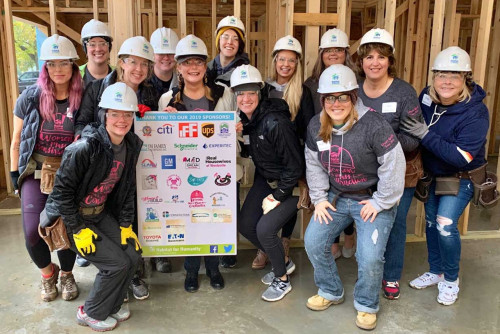 Fifteen Lindenwood faculty and staff members participated in Habitat for Humanity's Women's Build Day on Oct. 26.
The team of colleagues independently raised over $3,000 to participate, helping to create a home for a Wentzville Habitat family. The team consisted of Kara Schilli, Jenn Spellazza, Stephanie Afful, Colleen Biri, Billi Patzius, Becky Foushee, Cheyenne Koen, Marilyn Patterson, Katie Ratkowski, Emilie Johnson, Christie Rodgers, Heather Brown-Hudson, and Suzanne Stoelting and was led by Julie Turner.
"This event served as a great opportunity for colleagues to come together outside of work to contribute to our community in a meaningful way," said Turner, professor and department chair of nonprofit administration. "We are fortunate at LU to have some deeply passionate and compassionate employees, both on and off campus."
The team was invited to participate by nonprofit administration degree alumna and Habitat employee Lauren Grotegeers. This is the first time Lindenwood faculty and staff have participated Women's Build Day.