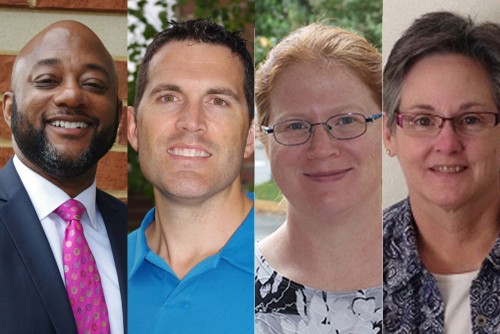 Lindenwood University System President Michael Shonrock and Dr. Stephanie Afful, chair of the university's Faculty Council, recently awarded the annual Lindenwood University Faculty Awards, recognizing excellence in a variety of categories.
Patrick Walker, associate professor of nonprofit administration, won the Lindenwood Service Award, recognizing his work on and off the Lindenwood campus, including seminars for area nonprofit organizations and his efforts to establish the Diversity, Equity, and Inclusion Committee on campus. He also recently received the Symbol of Hope Award from St. Francis Community Services in St. Louis. Walker joined the Lindenwood faculty in 2012.
Chad Kerksick, assistant professor of exercise science, won the Scholar of the Year Award, which recognizes outstanding scholarly accomplishment outside the university. Kerksick joined the Lindenwood faculty in 2014, has published extensively, including two books, in the areas of aging, weight loss, skeletal muscle physiology, and sports nutrition. Earlier this year, he received a national Nutritional Research Award for overall achievement in the field from the National Strength and Conditioning Association at its conference in Colorado.
Colleen Biri, professor of psychology, was selected for the President's Scholar-Teacher Award, which recognizes the use of scholarly research in the classroom. Biri, who joined the faculty in 2003, teaches courses on child development, parenting, psychological testing, ethics and careers in psychology, and coping with grief. She is the faculty advisor to the Lindenwood chapter of Psi Chi, the international honor society in psychology, and she is a member of the American Psychological Association and the Missouri Psychological Association.
Winning the Emerson Award for Teaching Excellence, presented annually by Emerson Electric, Inc., was Liz Ammann, associate professor of accounting in the Robert W. Plaster School of Business & Entrepreneurship. Ammann joined the Lindenwood faculty in 1983, which ties her with one other person her for longest-serving faculty member at Lindenwood. Longtime advisor for the Finance & Accounting Club, Ammann is highly regarding by students and her peers for her commitment to the Lindenwood accounting students and her dedication to teaching.
"Faculty Council is pleased to announce the 2016 faculty award winners," said Stephanie Afful, chair of the Faculty Council. "We had a number of outstanding faculty nominated. These awards are a reminder of the excellent work our faculty are doing, through exemplary teaching, service, and scholarship."