The Lindenwood University Department of Dance will present its annual fall production on the main stage of the Lindenwood Theater in the J. Scheidegger Center for the Arts on Nov. 5-7 at 7:30 p.m. General admission is $10.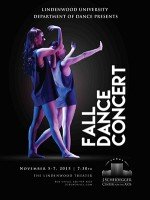 In the tradition of seasons past, the fall concert will feature new works by faculty, selected students, and guest artists. Featuring a combination of ballet, jazz, tap, and contemporary pieces, the Fall Dance Concert promises to have something for everyone and for dance enthusiasts of all ages and backgrounds.
For more information about the Fall Dance Concert, call the J. Scheidegger Center box office at (636) 949-4433.