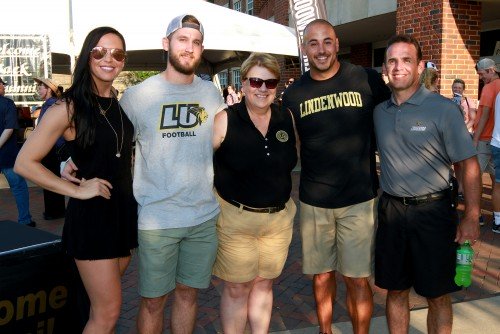 Lindenwood University will hold its fifth annual Family Day--an opportunity for family members to visit their students and enjoy a variety of activities--on Saturday, Sept. 16, 2017.
At Family Day, parents, siblings, and extended family members can get to know their students' friends; interact with senior administration, faculty, and staff; tour the campus; and enjoy fun events.
The Family Day schedule is as follows:
10:30 a.m.-11:30 a.m.—The Honors Reception in the third-floor lobby of the Library and Academic Resources Center (LARC). Families of university honors students are invited to meet and enjoy refreshments with Lindenwood University System President Dr. Michael Shonrock and Honors College faculty to learn more about the program.
10:50 a.m.-11:45 a.m.—For prospective Lindenwood students or anyone interested in learning more about the university, the Day Admissions team is hosting an event in the Spellmann Center's Anheuser-Busch Leadership Room to show how Lindenwood is "like no other."
11 a.m.-2 p.m.—At the check-in and business/departmental expo, families can pick up or purchase t-shirts and meet representatives from local businesses and Lindenwood's campus departments.
11:30 a.m.-2 p.m.—At the Lindenwood Softball Alumni Game at the Lou Brock Sports Complex, softball alumnae, families, and friends will gather for a friendly competitive game! Warm-up begins at 11:30, and game time is noon. Refreshments and clubhouse tours will also be available.
Noon-1 p.m.—Fraternity Bid Day on the Evans Commons lawn is an event at which new fraternity members will announce which organizations they decided to join.
1 p.m.—The ribbon cutting for the new Library and Academic Resources Center will be held in the new building's atrium area, known as "The Grove." Please join us as we celebrate the official opening of the new building.
2 p.m.-5 p.m.—At the Kids' Corner on the Evans Commons lawn, little Lions will play games, get their faces painted, and get some "air time" in a bounce house.
2 p.m.-5 p.m.—At the International Festival on the Evans Commons lawn, families will taste treats from around the globe, discover study abroad opportunities, view world fashions, and watch guest performers from different countries.
5 p.m.-6 p.m.—The ice cream social on the Spellmann Center patio is a great opportunity for families to enjoy some ice cream and meet Lindenwood System President Michael Shonrock.
6 p.m.—The Lindenwood football Lions will take on the Washburn University Ichabods in Harlen C. Hunter Stadium.
7 p.m.-9 p.m.—The Lindenwood Film Series, hosted for the first time in the LARC theater (Room 343), will feature the 2017 live-action version of Disney's Beauty and the Beast.
Family Day guests are invited to share their Family Day 2017 memories on social media by using #LindenwoodFamilyDay.
For more information, please contact Rachel Tolliver at 636-627-2539 or by email at RTolliver@lindenwood.edu, or visit www.Lindenwood.edu/familyday.