Cletus Coughlin, the senior vice president and chief of staff at the Federal Reserve Bank of St. Louis, is speaking to Lindenwood University students about monetary policy and the current market from 4 to 5:15 p.m. on Thursday, Sept. 3, in Harmon Hall's Dunseth Auditorium on the St. Charles campus. The title of the speech is "5, 4, 3, 2, 1, Ignition, Liftoff – But When?"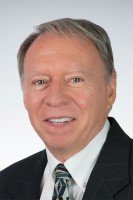 With nearly 30 years of experience at the Federal Reserve Bank, Coughlin will talk about what is right and wrong with U.S. monetary policy. Coughlin is also a policy associate with the Leverhulme Centre for Research on Globalisation and Economic Policy at the University of Nottingham in Nottingham, England, and serves on the editorial board of the Review of Regional Studies. He is also the author of many articles about international and regional economics.
"The talk is designed to provide an understanding of recent U.S. monetary policy and the issues confronting policymakers today," Coughlin said.
Coughlin's talk is part of Lindenwood's Center for Economics and the Environment speaker series. The CEE is part of the Hammond Institute for Free Enterprise in the Robert W. Plaster School of Business and Entrepreneurship.