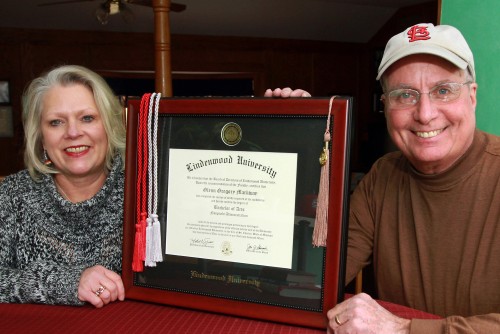 On Dec. 6, 2015, hundreds of newly minted alumni marched across the stage at the St. Charles Family Arena to receive their undergraduate degrees during Lindenwood University's December Commencement ceremony. Graduate Glenn Gregory Markway may have been missing from the crowd, but his presence was definitely felt.
The 23-year-old passed away on Aug. 1, 2015, following a valiant two-and-half-year battle with a blood cancer called Acute Myeloid Leukemia. Just a few months later, his parents, Carol and Michael Markway, became the first to accept a diploma on behalf of their child during a Lindenwood graduation ceremony.
"It was very humbling and very overwhelming," said Carol Markway. "We had talked a lot as a family about how Glenn's graduation party was going to be the biggest party we were ever going to have. To accept his diploma was very touching, and it made me feel really special. We're honored that Lindenwood thought so much of Glenn to do that."
Markway attended Lutheran South High School, where he served as captain of the football team. After graduating in 2010, he enrolled at Lindenwood and became a member of the university's rugby team. At 5 feet, 11 inches tall and 250-pounds, Markway was an intimidating and enthusiastic athlete and a key player on the 2012 men's national championship team.
Academically, he was drawn to Lindenwood's Fire and Paramedic Science Program and majored in nonprofit administration. Even after being diagnosed with blood cancer in April of 2013, he continued with his coursework at Lindenwood.
Through five rounds of chemotherapy, countless days in the hospital, and a stem cell transplant, Markway only missed one semester due to his illness. Even then, he completed required writing assessments during that time.
"Never once did he let the disease take hold of him or stop him from living life to the fullest," Carol Markway said. "He never complained. He was a pillar of strength, and he always won."
Markway's academic advisor, Professor Jack Beckerle, along with Lindenwood Professor Julie Turner, became friends with him during his time at Lindenwood. They were at the hospital when Markway passed away, and they immediately inquired as to what they could do for his parents. "I remember saying the only thing I wanted was Glenn's diploma," Carol recalled. "And they both said, 'Say no more; it's taken care of.'"
Beckerle had Markway's official undergraduate degree in nonprofit administration with an emphasis in emergency services framed, and he personally delivered it to the funeral home so it could be displayed during Glenn's funeral visitation. There, Beckerle devised the plan to present Glenn's diploma to Carol and Michael Markway during Lindenwood's December graduation ceremony.
"Glenn is an inspiration to me, and he just amazed me," Beckerle said. "He was a tough kid with a great heart who was full of life. I thought we needed to show him the same level of dedication he'd shown us. There was nothing else that would have been fitting for him. It was a team effort to honor him."
Many messages of love and support can be found on Markway's Facebook page, which is still active. Beckerle and other members of the Lindenwood community, along with Glenn's family, teammates, and friends, continue to participate in and coordinate events to raise awareness and support research to eradicate leukemia and all forms of cancer.
"When you lose a child, you don't want anyone to forget them," Carol Markway said. "Lindenwood has not forgotten Glenn. We love to hear his name, to hear great stories, and to participate in all the good things people are doing to honor Glenn's life and legacy."