Lindenwood University's Hammond Institute for Free Enterprise will host an afternoon and evening event on Feb. 9 focusing on re-entry and entrepreneurship. The "Left, Right, and Center" event will include a variety of panel discussions and a keynote address and dinner with Jeff Henderson, celebrity chef and former prison inmate.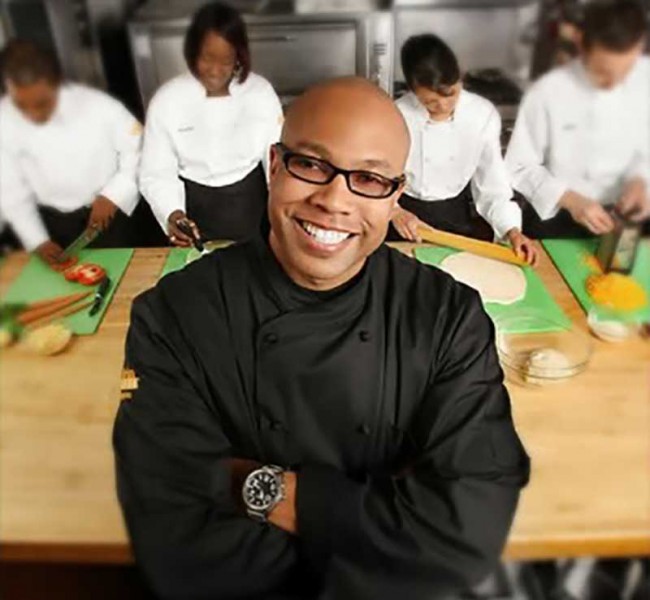 The event is free and open to the public and will be held in the Spellmann Campus Center's Anheuser-Busch Leadership Room on the university's St. Charles campus. Registration is required and may be done online at hammond.instutute, which also includes a detailed schedule of events. Contact Carol Felzien at 636-627-2915 or cfelzien@lindenwood.edu for more information.
The event will begin with an opening reception at 2:30 p.m., followed by a resources panel at 3:30, an experience panel at 4:30, an entrepreneur fair at 5:30, dinner and keynote address by Henderson at 6:15, and an evening panel on entrepreneurship at 7 p.m.
Henderson is a highly sought-after motivational and public speaker, an award-winning chef, and author of the New York Times best seller Cooked. He is the creator of the Food Network reality series The Chef Jeff Project and is host of the new television series Flip My Food. He discovered his passion and gift for cooking in prison while serving time for a drug dealing conviction.
The Hammond Institute is a research center at Lindenwood University, housed within the university's Robert W. Plaster School of Business & Entrepreneurship. It is comprised of three centers: the Center for Economics and the Environment, the Center for Liberty and Ethics, and the Duree Center for Entrepreneurship.