The universal truth of food, faith and family runs through Joe di Pietro's comedy "Over the River and Through the Woods." The Brass Rail Players at Lindenwood will present this heartwarming play for eight performances, April 7-10 and 14-17.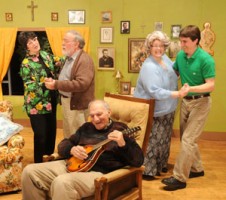 Showtime is 7:30 p.m. Thursday through Saturday and 2 p.m. Sunday at Lindenwood University's Belleville Auditorium, 2600 W. Main St.
Di Pietro, the Tony winner for the "Memphis" book and author of "I Love You, You're Perfect, Now Change," based this work on his Italian immigrant grandparents.
Nick Cristano visits his colorful grandparents every Sunday for dinner. His parents moved to Florida, and their parents became a very important part of his life. When an attractive job promotion is offered that would mean moving far away, Nick must make a tough choice. And his grandparents let it be known they want him to stay.
Richard and Pat Hunsaker of Belleville portray Nunzio and Emma Cristano. The Hunsakers have been married for 51 years and have acted together since their college days as speech and theater majors.
It is only the second time they are portraying husband and wife in all these years, although they have been seen locally on stage at Monroe Actors Stage Company, Alton Little Theatre and Looking Glass Playhouse. Richard Hunsaker taught at Belleville Township High School West for 35 years.
Rick Kachigian of Granite City and Susan Anderson of Red Bud play Frank and Aida Gianelli. Ryan Norrenberns of Belleville is grandson Nick and Lauren Keck of Fairview Heights is Caitlyn O'Hare, a dinner guest.
The production is directed by Matt Dossett of Waterloo, who portrayed Nick in two local community theater groups, Monroe Actors Stage Company in 2007, and the Theatre Guild of Webster Groves this past January.
For more information, call director Matt Dossett at (618) 979-4818 or executive director Lynn Venhaus at (618) 917-8175.