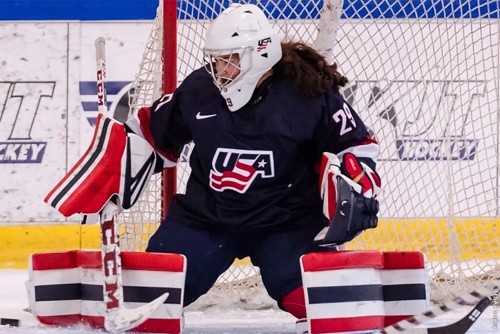 Former Lindenwood women's hockey goaltender Nicole Hensley was among the 23 players selected by USA Hockey to represent the United States at the 2018 Winter Olympics in PyeongChang, South Korea. The complete United States roster was announced Jan. 1 during the second intermission of the 2018 NHL Winter Classic.
Hensley, a four-time all-CHA performer while at Lindenwood, finished her four-year Lindenwood career in 2016 as the all-time NCAA Division I leader in saves with 4,094. From 2012 to 2016, Hensley appeared in 123 games as a Lion, compiling a .921 save percentage during that time.
A native of Lakewood, Colo., Hensley was a three-time Academic All-American at Lindenwood and received the prestigious NCAA Top 10 Award in the winter of 2016.
Hensley will be the first Lindenwood alumnus in school history to compete at the Winter Olympics.
Hensley was Team USA's primary goalie at the 2017 World Championships. She allowed just two goals in three games, which included two victories over the team's main rival, Canada. In the gold-medal match, she made 28 saves in Team USA's 3-2 overtime victory. Hensley was named one of the top three U.S. players of the tournament.
Hensley also won a gold medal at the 2016 World Championships and has appeared in numerous other events for Team USA in recent years.
Hensley and Team USA will open the 2018 Winter Olympics during a preliminary round matchup against Finland on Feb. 11. Puck drop is set for 1:40 a.m. from the Kwandong Hockey Centre in PyeongChang.