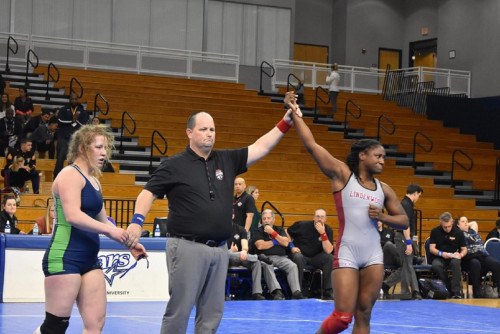 Six members of the Lindenwood University-Belleville women's wrestling team recently travelled to take part in the WCWA Nationals. The Lady Lynx placed 21st, scoring 28 points, and were led by senior Niauni Hill, who completed a perfect 34-0 season with a national championship in the 155-pound weight class. The national championship is the first in program history for the Lady Lynx.
"It was a great experience for our team," Head Coach Angelo Crinzi said. "We have our first national champion with a great group of girls excited to step up to the challenge. I'm looking forward to watching this program prosper and grow into something special."
Hill opened her tournament with a 13-0 technical fall victory over Maria Enriquez of the University of Providence before earning a 10-0 technical fall against Aylin Hernandez of Missouri Baptist. In the quarterfinals, Hill claimed her third consecutive technical fall victory of the tournament when she earned a 12-2 victory against Anna Naylor of University of the Cumberlands.
In the semi-finals, Hill earned a hard-fought victory against Evonne Evien of Menlo College. In the championship match, Hill trailed 3-2 after the first period against Tatum Sparks of the University of Providence but battled back in the second period to take a 6-5 lead late in the bout. An unsuccessful challenge by the Providence coaching staff gave Hill a 7-5 lead and when the final buzzer sounded she earned her first national championship.
"I am very much blessed with the support system I have in my corner," said Hill. "I could have not done it without them. I am more than blessed to have earned this title, not by luck but by hard work and resiliency. I have finished my senior year the way I wanted, and I couldn't have asked for a better season!"
In the 170-pound weight class, Faith Ghramm started the tournament with a 10-0 loss to Dymond Guilford of Missouri Baptist before rebounding with a 4-3 victory over Destiny Robinson-Crawl of Life University. Ghramm then saw her tournament end with a 10-0 loss to Mykyla Kerr of Oklahoma City.
In the 109-pound division, Angelique Terrones-Cruz dropped a 6-0 decision in her opener against Jessica Dehart of Eastern Oregon before dropping an 11-2 decision to Tyesha Topps of Life. At 116 pounds, Samantha Smith suffered a 6-2 loss to Ali Encinas of Emanuel College before ending her tournament with a 10-1 loss to Alanis Naranjo of St. Mary University.
At 143, Maya Shimizu dropped a 4-0 decision to Alexia Foca of Campbellsville before falling by an identical score to Felicity Bryant of Emmanuel. Meanwhile, at 191-pounds, Yalitza Ramos lost to Alyssa Cantu of Missouri Valley by a score of 15-3 before dropping a 4-0 decision Stephanie Pantoja of Life in the consolation bracket.
Lindenwood Belleville women's wrestling will return to Oklahoma City next month when it competes in the University Nationals. The all-day meet will be held on Saturday, March 24, on the campus of Oklahoma City University.