As the school year rapidly comes to a close, Lindenwood University-Belleville students had a chance Thursday, April 27, to share with others some of the exciting things they've learned.
Students from the Humanities Division presented highlights of their work in a public showcase held in the classrooms and hallways of the West Wing. Visitors walked from room to room to see poetry readings, short films, graphic artwork, script recitals, and many other forms of art.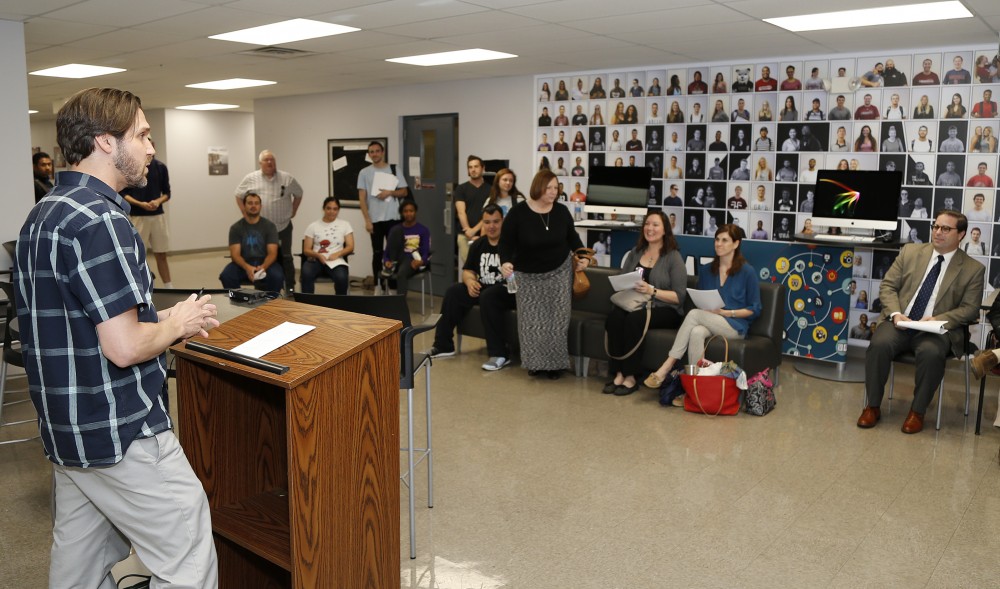 "The event originated in the Communications Department as a way to highlight student media projects, mostly in video, photography, and interactive media," said Communications Department Chair Justin Edgren. "This year is the first time that we've expanded to include students from throughout the humanities to highlight other areas in creative writing and research. We really want to honor the hard work that our students are putting into their projects each year."
While the showcase isn't competitive in the sense that there are no prizes or trophies, Edgren believes a public presentation of the work is both rewarding and educational for students.
"It's important to show students that their work matters and deserves an audience," Edgren said. "I do think that a showcase like this does inspire students to up their game versus simply completing the steps required for an assignment. Sometimes, there can be a hesitation for young authors and artists to share their work, and it's an important challenge to overcome."
Cynthia Martinez, a junior from Paraguay, is a double major in acting and web design. She was excited about the opportunity to show off some of her photography work and computer graphics work.
"I think it's a fun thing," said Martinez. "I just love art, and it's important to share art with other people. I want to hear what others think about it."
A variety of interesting creations was presented.
"Some projects, like the augmented reality experience and the short films, were collaborative projects, and others were created individually," Edgren said. "We'll have music videos, a research presentation, a script reading, videos, interactive games, graphic design, web design, photography, augmented reality, drawing and painting, news stories from LBTV and the LYNK radio, and documentary and narrative short films."
Jorge Rodriguez, a senior from Honduras in interactive media and web design, was part of a team of 11 students who created an augmented reality experience. The project included 3D modeling, graphic design and other areas of study into one presentation, an interactive walk-through display that promised to allow participants to see into another dimension.
"It's great to see something we worked on all semester come together and then to be able to share it with people," Rodriguez said.
Edgren said there has been a lot of enthusiasm for the showcase and he expects to rapidly expand it in the coming academic years.
"There are no awards at this point, but that might be something to consider in the future," said Edgren. "For now, the event is informational and a way for people to be inspired and transported by the creativity of our students. We plan to make this an annual spring event, which will only grow from here. We're figuring a few things out this year, but we'll definitely be back even bigger and better next spring."