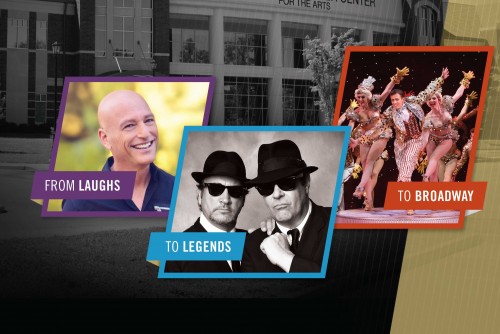 The Blues Brothers Will Be First up on Sept. 10
Lindenwood University's J. Scheidegger Center for the Arts announces its 2016-17 professional season line-up, its eighth season since the $32 million performing arts center opened, consisting of six touring shows, starting with The Blues Brothers on Sept. 10.
The other acts include Howie Mandel (Oct. 16), Kenny G (Dec. 17), the touring revival of 42nd Street (March 12), Vanessa Williams (April 1), and Johnny Mathis (May 13 & 14). For show times and other information, visit LUBoxOffice.com.
Current season ticket-holders may renew their tickets July 18-22 by calling the box office at 636-949-4433. Tickets for individual shows will be available online only at LUboxoffice.com starting at 9 a.m. on July 25 and may be purchased at the Scheidegger Center Box Office and by phone (636-949-4433) starting Aug. 8 at 9 a.m.
The Box Office is located in Lindenwood's J. Scheidegger Center for the Arts, at 2300 West Clay St., just west of First Capitol Drive in St. Charles.
"This season is one of our most exciting yet," said Peter Colombatto, marketing director for the Scheidegger Center. "It's a diverse lineup that has something for everyone, from the Blues Brothers, starring Dan Aykroyd and Jim Belushi, to the legendary Johnny Mathis, to the national tour of Broadway's 42nd Street. It's rare to get to see artists like these in as intimate a setting as our 1,200-seat Lindenwood Theater, it's an experience that's truly 'like no other.'"
The Scheidegger Center enriches the local community with performances and serves as a living laboratory for the arts for the students at Lindenwood University. The campus provides a secure atmosphere, with fully accessible facilities and a family-friendly environment.
In addition to the professional shows, the J. Scheidegger Center features multiple student productions, including music series, dance concerts, theatrical performances, art exhibits, and fashion shows, as well as several community events throughout each season.
For more information about the 2016-17 season or to be added to the J. Scheidegger Center mailing list, contact the Box Office at (636) 949-4433.