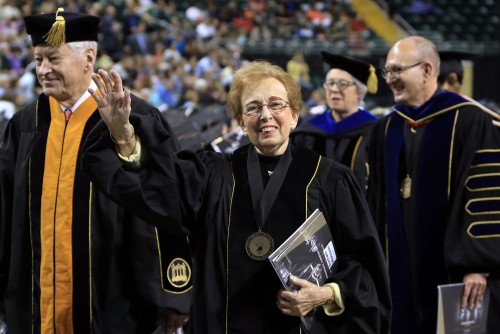 Kay (Dunham) Wilkinson ('60) was named the 89th recipient of the Lindenwood University Alumni Merit Award during the university's undergraduate commencement ceremony on May 14 in St. Charles, Mo.
The award is given annually to a distinguished individual who attended Lindenwood for two or more years and has established a reputable record of support for the university.
Wilkinson was born and raised in Quincy, Ill., graduating from Quincy High School in 1956. She earned a Bachelor of Science in office management from Lindenwood in 1960 and had a distinguished career as a legal assistant with top corporate firms in Texas.
"When Cortney Lenk ('99) called to tell me that I had been chosen to receive the award, I was overwhelmed and at a loss for words," Wilkinson said. "I am humbled to receive such a prestigious honor from Lindenwood. My commitment to my alma mater has not been for recognition, but for the love of a special place that has become a steadfast anchor in my life."
Her close friend, Kay (Fellabaum) Hueser ('60), says, "Kay has been our class representative since we graduated and has reported news from our classmates for all of those years. She was the coordinator for our 50th reunion and did an amazing job! I don't know how we would have kept in touch with one another without her help. Lindenwood has a great friend in Kay."
Wilkinson provided financial support for Lindenwood's Doors to the Future campaign, which is supporting the new Academic Resources Center on campus.
In 2014, Wilkinson instituted the Emma Purnell Business Management Memorial Scholarship to benefit a deserving female business student. Named after the instructor who made the biggest impact in her life, the scholarship is for residential students and is renewable for four years.
"Over the years, it has become evident to me that the most important thing I can do is 'pay back' to Lindenwood through participation in its endeavors to remain a first-class university," Wilkinson said. "Whenever I think of my years at Lindenwood, I know that I would not have been able to accomplish the many challenges in life, both professionally and personally, had it not been for the initial foundation provided through a liberal arts education, highly regarded professors, and an administration that cared about students. I loved living on the beautiful Heritage campus."
Wilkinson now live in Quincy, Ill., and is involved with many local groups, including the Quincy Museum, the Great River Genealogical Society, and the Susan Komen Foundation.