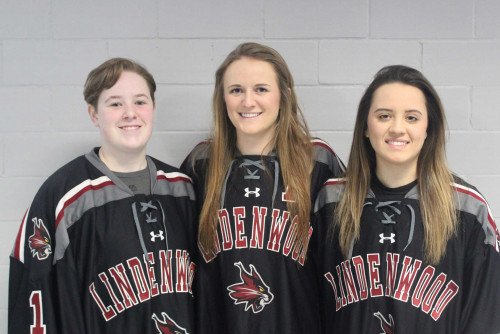 The No. 3-ranked Lindenwood University-Belleville women's ice hockey team (16-4-3) is proud to announce that three Lady Lynx players, freshman goaltender Hannah Stone, junior forward Alicia Williams, and junior defenseman Katie Stelling, have been chosen to represent the United States at the 2019 World University Games in Krasnoyarsk, Russia, March 1-9.
The roster, which includes two goaltenders, seven defenders, and 13 forwards, consists of players competing in the National Collegiate Athletic Association and American Collegiate Hockey Association. The United States will field a women's hockey team at the World University Games for the fifth consecutive tournament.
"This shows a tremendous amount of success for our program," said Lindenwood Belleville Head Coach Kat Hannah. "With the high percentage of Canadians on the team, we have seven Americans on the team and three of them made it to represent their country."
The Lady Lynx have compiled a 16-4-3 record this season while defeating multiple nationally ranked opponents and achieving their highest ranking in program history. They also claimed the championship at the Robert Morris-Chicago Showcase Tournament, upending three ranked teams on their way to the crown.
"We have the strongest schedule of anybody in the country," said Coach Hannah. "That has set us up mindset-wise. Not having weekends off has really helped us throughout the whole year to approach each weekend with the seriousness necessary to succeed. Players are buying in to what we are all about – we don't take days off, they hold each other accountable, and they are looking to get better every day."
Williams, a native of Virginia, Minn., is in her third season with the Lynx. So far this season, she has scored 18 goals and recorded 15 assists for 33 points in 23 games. She has recorded six power-play goals and three game winning goals.
"Alicia came here without me having ever seen her play before," said Coach Hannah. "She reached out to me and said if 'you bring me in, you won't regret it,' and I haven't for a minute. Having had her for the last couple years, she came with a lot of skillsets to begin with, but now she's really refined her skills, working with and learning the game with us. She's a natural leader, and has found what her roles are with the team and has really focused on that."
Williams has appeared in 82 games for the Lynx scoring 37 goals and dishing out 33 assists for 70 points. She has scored seven power-play goals and also recorded nine winning goals in her illustrious career.
"I am so grateful to be named to this team," said Williams. "It is such a privilege to represent my country, and it will be a terrific challenge that will make me a better player. I was surprised to be picked for the team, and it's a tremendous opportunity. I already play with some of the best players in the league every day, so to be chosen for this team is such an honor."
Stone, a freshman goalie from Killingsworth, Conn., has been busy rewriting the Lynx record books in her first year of intercollegiate competition. Perhaps the most impressive feat by Stone this season came on Feb. 10 as she led the charge in a 23-save, 1-0 shutout of No. 1-ranked Adrian College.
"With Hannah (Stone) coming in as a freshman, she has made her mark pretty early on," said Coach Hannah. "In her second performance against Liberty, the national champs, she gave us the opportunity to tie and eventually win the game. With our strength of schedule, we were able to highlight how talented she is and how mentally strong she is coming in as a freshman."
Stone has recorded eight shutouts for the Lady Lynx this season, the highest single-season total in program history. She has also accumulated a record of 12-2-3 with a 1.26 goals against average and a .941 save percentage in 19 games.
"I was speechless when I was named to the team," said Stone. "It has always been a goal and dream of mine to represent the United States, and it's nice to see the effort paying off. It will be a unique opportunity to face an excellent level of opposition and seeing harder shots makes it more fun and will make me a better goaltender. I'm very excited and hope to win gold for the USA!"
Stelling, a junior defensemen from Santa Cruz, Calif., is the second Lady Lynx defenseman to be named to the University Games squad. In 2017, Alex Brown proudly represented her school and nation at the 28th World University Games in Almaty, Kazakhstan.
"Katie is a fierce competitor and more than deserves a chance to play at the highest level," said Coach Hannah. "This is like the Olympics of university hockey, and Katie eats, sleeps and breathes winning, so expect her to be fired up and ready to go the extra mile for her country."
So far this season, Stelling has scored nine goals and chipped in with eight assists for 17 points in 22 games played. She has also recorded five power-play goals along with one game-winning goal in addition to be the third leading scorer on the Lynx team.
In her freshman season, Stelling scored 14 goals with five assists in 33 games to go with five power-play goals and four game-winning goals. During an injury-shortened sophomore year, Stelling recorded two goals and seven assists in only 12 games.
"I'm grateful and honored to be selected and to have this amazing opportunity to play for my country," said Stelling.
The successes of the Lindenwood Belleville women's hockey program are not restricted to the team or even the greater hockey community. While the program continues to ascend higher in the pantheon of college hockey, recognition comes from all over the Belleville campus.
"The quality of player that we are able to recruit, retain, and graduate here is truly remarkable," said Athletic Director Ryan Kaiser. "Coach Hannah continues to amaze me. The time she spends building relationships with these recruits and their families is a true testament of her work ethic and determination to truly build something special here. The Lindenwood University-Belleville Athletic Department and university is so proud of these young ladies. Their reward will be to wear the red, white, and blue for this great country."
Photo Cutline: Pictured from left are Lindenwood University-Belleville hockey players, Hannah Stone, Alicia Williams, and Katie Stelling, who have been chosen to represent the United States at the 2019 World University Games in Krasnoyarsk, Russia, March 1-9