The Liberty and Ethics Center at Lindenwood University has received a $7,500 grant from the Earhart Foundation to fund its 2013-2014 Inaugural Lecture Series.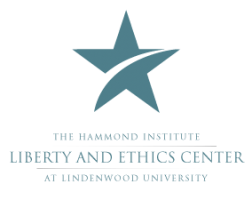 The series will take place on the campus of Lindenwood University in St. Charles and consist of three different lecture events by prominent speakers on the topics of free enterprise and liberty.
"The Earhart Foundation puts special emphasis on the tradition of liberty in the humanities," said Rachel Douchant, director of the Liberty and Ethics Center. "Our line-up this year includes civil rights historians, economic historians, church historians, economists, and political philosophers, so it was a perfect fit."
The Earhart Foundation is a private charitable organization, established in 1930 in Ann Arbor, Mich., with the purpose of supporting education and research in the areas of economics, history, philosophy, international affairs, and social and political science.
The Liberty and Ethics Center operates within the university's Hammond Institute for Free Enterprise, which was launched this summer and is housed institutionally in the School of Business and Entrepreneurship. The center is dedicated to fostering scholarship on the roles of free enterprise and liberty in advancing the virtues necessary for a prosperous and just society.