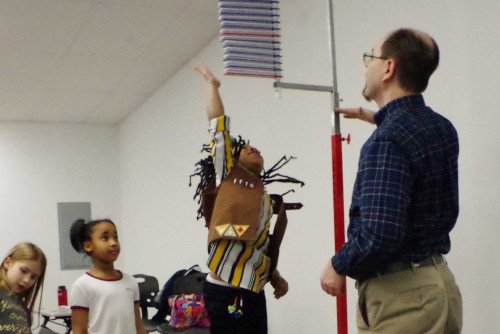 The Lindenwood University-Belleville Division of Sciences recently held an event for Girl Scout Brownie Troop #1110 from Belle Valley Elementary School in the exercise science lab, hosted by Associate Professor of Exercise Science Dr. Lindy Rossow and Associate Professor of Biology Dr. Scott Shreve. Rossow and Shreve planned three different stations, showcasing the exercise science lab equipment, to give the girls a fun, hands-on glimpse into the world of what exercise science.
This group of 11 second graders earned their My Best Self Merit Badge, which helps the scouts learn how to take good care of their bodies. The three stations Rossow and Shreve set up consisted of a device that tests grip strength, a vertical jump test, and a step-up test where the girls stepped up and down to a metronome for three minutes. This marks the second time the Girl Scouts of Southern Illinois have turned to Lindenwood Belleville to help them earn a badge; in December 2016, the Media Club hosted an event that allowed the girls to earn their Digital Movie Maker Merit Badge.
"This is a great way for Lindenwood to engage with the community and have the opportunity to show these young girls something new and exciting," said Rossow.
Being a local troop, these brownies travel around the Belleville area earning badges and contributing around the community.
"This was really fun," said Belle Valley second grader Kaylee. "I've only seen this stuff at Club Fitness with my mom."
In addition to the three stations, the girls looked at other state-of-the-art lab equipment, including the BodPod, which measures body composition, and walked on the pulse monitoring treadmill.
"It was a real pleasure seeing the girls have fun and learn a little about how their bodies work," said troop leader Amy Shreve.
Photo Cutline: Girl Scouts from Belle Valley Elementary School recently visited Lindenwood University-Belleville to receive their My Best Self Merit Badge, where they explored the exercise science lab with the help of Associate Professor of Biology Scott Shreve (pictured) and Associate Professor of Exercise Science Dr. Lindy Rossow (not pictured). Here the students are testing their vertical jump.