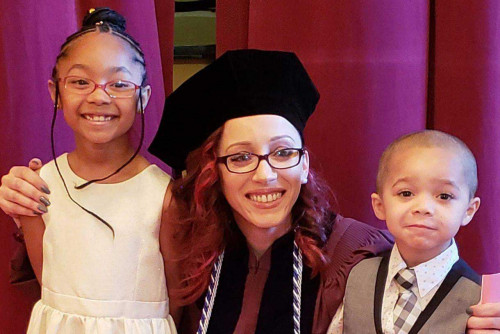 When Cierra Barnes dropped out of high school as a teenager, she could have scarcely imagined graduating college, earning a law degree, and publishing in a legal journal—a process that all started at Lindenwood University-Belleville.
"I thought I messed up too badly during my high school career to ever make up for it," said Barnes, a 2014 Lindenwood University-Belleville graduate. "But the day I stepped into Lindenwood Belleville's Admission Office was the day that my life changed. Lindenwood saw more in me that I never even saw in myself. I could never thank the faculty and staff enough for helping me change my life and pushing me to want more for myself and my children."
Barnes, who earned a bachelor's degree in criminal justice, sought to choose a career path where she could help others.
"I wanted to help people, but more importantly, I wanted to show people that a GED is a stepping stone into a new life and to never count yourself out after a mistake," said Barnes. "My mistake just happened to be dropping out of high school, and I needed to redeem myself for my children's sake."
A degree in criminal justice can lead to many different careers, but Barnes cites the internship she completed while at Lindenwood as her push in the right direction. With the help of criminal justice instructor Judge (Ret.) Annette Eckert, Barnes was placed in the St. Clair County State's Attorney's Office. It was during her time as an intern there that she unlocked her passion for the courtroom.
During her time at Lindenwood, Barnes said she received immense support from the faculty and staff to overcome any difficulties as a non-traditional student.
"Judge Annette Eckert is more than just my previous professor," Barnes said. "She became my mentor. She cares about the future of her students and always makes herself available to help. I would not be where I am today if it wasn't for her guidance and concern."
The skills she learned while at Lindenwood also gave her the tools she needed to succeed later in life, said Barnes.
"Lindenwood is where I first learned the proper method of writing as well as the other skills necessary to further my education," she said.
Learning the nuances of academic writing paid off in the long run, as Barnes was recently published in the Journal of Legal Medicine. Her commentary, "If it's Not Broken, Don't Fix It: A Call to Amend the Definitions Provided by the Food and Drug Administration to Include the Newly Developed Meal-Kit Delivery Industry," was published October 2018. It combines her passion for law and food by suggesting the Food and Drug Administration expressly include companies that provide meal-kit delivery services in food regulations.
After completing her undergraduate degree, Barnes continued her education and also holds a Juris Doctorate from Southern Illinois University School of Law, class of 2018. She currently works as a law clerk at Sandifer Purchase, Attorneys at Law, in Belleville, Ill., and lives with her two children, Deriana and Derrick Jr., in St. Louis, Mo. Barnes plans to sit for the Bar Exam in February 2019.