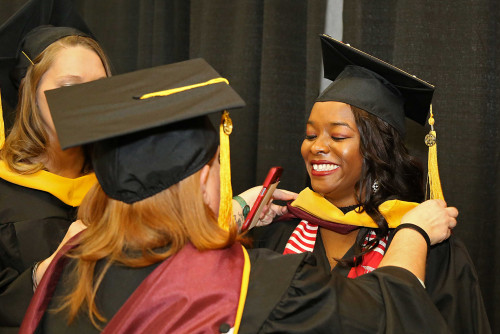 Lindenwood University-Belleville will host its 2018 Commencement Ceremony Saturday, May 5, at 10 a.m. in Lindenwood Stadium, 2600 W. Main St., Belleville, Ill.
"This is the first time in several years that we've hosted our commencement ceremony on campus, and we're very excited to bring this event back to Belleville to celebrate with our students, their families, and our community partners," said Dr. Renee Porter, campus provost.
Porter said the university anticipates 2,100-2,500 guests for the day's event.
Guests will not need tickets for the ceremony, and seating will be available on a first-come, first-served basis. Stadium gates will open at 8:30 a.m. All graduating students participating in the ceremony are required to check in for the ceremony by 9 a.m. in the Alan J. Dixon Student Center.
For more information about the 2018 Commencement Ceremony, call (618) 239-6210.