More than 200 athletes from Lindenwood University were among the army of volunteers working at this year's Mo' Cowbell Marathon last month in historic St. Charles. The work of volunteers resulted in a donation of $10,000 to the St. Charles City-County Library Foundation.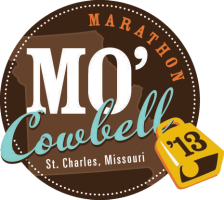 This year's Mo' Cowbell race on Oct. 6 featured 4,289 participants, most of which raced in the half marathon. Twenty racers qualified for the Boston Marathon—nine males, nine females, one wheelchair, and one mobility impaired runner.
In addition to the race, there was a health and fitness exMO at Lindenwood University, featuring 53 vendor booths at the Hyland Arena.
"We really appreciate Lindenwood's involvement," said Kerin Miller, race chair. "The sheer volume of assistance was incredible--from manning water stations to providing athletic trainers and doing setup and breakdown. And providing the site for the exMo was greatly appreciated, too."
The Mo' Cowbell Race is organized annually by Partners for Progress of Greater St. Charles.