Educate to Career has ranked Lindenwood University as a top value in its recent college ratings index. With a score of 85.8, Lindenwood was ranked 234th out of 1,224 four-year colleges in the U.S., or the top 20 percent, giving it the second highest ranking in the St. Louis area.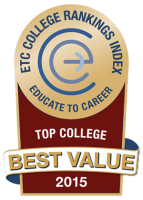 The ETC Index analyzes the quality of students when they enter a given college, the total costs related to attending the college, and the outcomes of the students when they enter the labor market, including their ability to find work in their chosen fields, salary level, and other factors, according to the ETC website. To be included, a school must have at least 1,000 students.
"Lindenwood University has long been known as an 'opportunity university' because we provide an optimal combination of academic learning and real-world-job preparation at a very reasonable tuition rate–all in the context of a student-centered mission," said Dr. James D. Evans, president of Lindenwood University. "A great job and a fulfilling life are the student's return on investment. The student's success is our return on investment!"
The ETC website states that the data are derived from over 50 different data sources within government agencies and educational institutions. These sources include and are not limited to the U. S. Department of Labor, the U.S. Bureau of Labor Statistics, the National Center for Education Statistics, the U.S. Census Bureau, the Common Data Set Initiative, the U.S. Equal Employment Opportunity Commission, the U.S. Bureau of Economic Analysis, and the U.S. Federal Reserve.