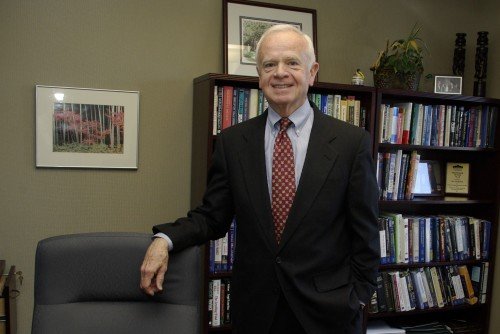 Edward Morris, Lindenwood professor of finance and former dean of the Plaster School of Business & Entrepreneurship, recently spoke about and signed copies of his new book Wall Streeters: The Creators and Corruptors of American Finance at events at Left Bank Books and Lindenwood University.
Morris' book details Wall Street's transformation from a clubby enclave of financiers to a symbol of vast economic power. It begins with J. Pierpont Morgan, who ruled the American banking system at the turn of the 20th century, and ends with Sandy Weill, whose collapsing Citigroup required the largest taxpayer bailout in history. In between, Wall Streeters relates the triumphs and missteps of 12 other financial visionaries.
"Many of Wall Street's contemporary trends, including the 2008 financial collapse, the expansion of corporate and private wealth, and the influence of money in politics, can be traced back to the work of 14 critical figures who wrote, and occasionally broke, the rules of American finance," said Morris.
Prior to joining the business faculty at Lindenwood in 2002, Morris was an investment banker and executive vice president of Stifel, Nicolaus and Company. He also served on the boards of several publicly traded companies.
Wall Streeters: The Creators and Corruptors of American Finance was published Oct. 13 by Columbia Business School, Columbia University Press in New York. It is available at Left Bank Books and other book retailers.