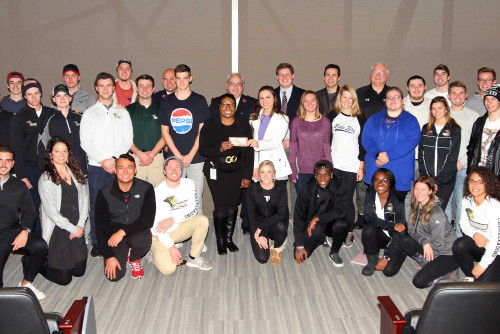 Lindenwood University students competed for a good cause on Dec. 5 and 6 in the Pepsico/Salvation Army Bell Ring Challenge.
Student organizations competed by ringing the bell and collecting donations outside of the University Commons Schnucks across the street from Lindenwood's St. Charles campus. The competing organizations included Cheerleading, Men's Golf, Water Polo, Lindenwood Student Government, Delta Zeta and Phi Lambda Chi, and Alpha Phi Omega and Tri Sigma.
The winner of the competition was announced on Dec. 10, with Alpha Phi Omega and Tri Sigma collecting the most money on Dec. 5, raising more than $450. Water Polo raised more than $270 on Dec. 6, finishing in first place for the day.
"I was exceptionally proud of our student organizations, athletic teams, and Greek-life organizations for not only volunteering their time, but being energetic and proud to support our local community," said Dr. Shane Williamson, associate vice president, Student Life and Diversity.