Lindenwood University will host a weekend of activities for families of students on Thursday, Sept. 25, through Saturday, Sept. 27, including a nationally televised football game, movies, other sports, food, opportunities to attend classes, and numerous other activities.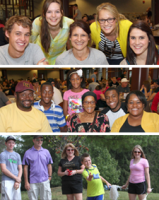 Families will be able to meet President James Evans as well as Lindenwood faculty and staff, attend sporting contests, attend fine arts performances, spend time with students on and off campus, take campus tours, and enjoy dining services on campus.
"Family Weekend is a fun-filled weekend that is packed with academic, social, cultural, and athletic events for the entire family to enjoy," said Shane Williamson, dean of first-year programs. "It is an exceptional opportunity for students and their families to reunite, enjoy the Lindenwood University campus and surrounding community, and create memories that will last a lifetime."
For Family Weekend, the visitation policy will be: 11:00 a.m.–9:00 p.m. for guests under 18 in the on-campus housing facilities (this includes houses and residence halls) on Friday and Saturday only.