Lindenwood University's Film Series will usher in Halloween with a showing of the classic silent vampire film Nosferatu, including accompaniment with original music performed live by the university's Symphonic Orchestra and Concert Choir. The screening will be at 7:30 p.m. on Tuesday, Oct. 30, in the J. Scheidegger Center for the Arts' Bezemes Family Theater on campus. Admission is free of charge, but tickets are required. They can be obtained at the Lindenwood Box Office, 636-949-4433.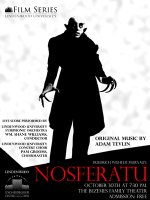 Based on the novel Dracula, by Bram Stoker, the 1922 German film by director Friedrich Wilhelm Murnau stars Max Schreck as Count Orlok, a mysterious nobleman from Transylvania whose move to a small German town corresponds with a series of deaths in the town. As in the source work, a small group of locals figures out what is going on and tries to stop the murderous count.
Peter Carlos, one of the organizers of the film series, said the film was an opportunity for the series to collaborate with a number of departments, particularly the schools of fine and performing arts and communications. The music for the show was written by Lindenwood alumnus Adam Tevlin, who graduated in May 2012.
"This is also a great opportunity for our students and the public to see a movie with music performed live, the way it used to be," Carlos said.
Professor Shane Williams, who directs Lindenwood's orchestras, said the film is also an opportunity for audiences to see the premier of these compositions in a truly unique format. The musicians will be on the stage, directed by Williams with the movie projected above them. Vocal portions of the score will be performed by the Lindenwood University Concert Choir, directed by Pam Grooms, chair of the school's music department.
"This movie is a silent film, and the music was written specifically for this event," Williams said. "This is the kind of experience that doesn't just happen all the time."
Williams said the experience is new for the student performers, too, because they were able to work directly with the composer and they will perform the music throughout the 80 minute film with none of their typically breaks between numbers that come with their usual performances.
"They love it and are excited about it," Williams said. "It's been a great experience for them."