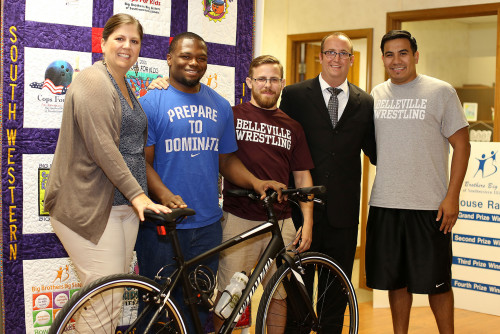 Lindenwood University-Belleville men's wrestling team member Darius Lewis received an unexpected birthday gift at the charity where he donates much of his time.
Recently, as he frequently does, Lewis rode his bicycle to the Big Brothers Big Sisters of Southwestern Illinois office on Frank Scott Parkway. He parked it outside the building while he stopped in to talk to his coworkers. When he walked back outside just moments later, the bike was gone.
Without a way to get around, Lewis wasn't sure how he was going to meet his goal of donating 150 hours to the organization this semester. But Big Brothers Big Sisters President and CEO Natalie Jablonski wasn't going to let a bike thief stand in the way of the generous and ambitious student.
"We wanted to get you this so you can go do something awesome," Jablonski said when the bike was presented to Lewis. She added that she wanted to thank him for his hard work and passion for giving back, while helping him continue to volunteer.
It was a coincidence that the new wheels, a black mountain bike bought from area bicycle shop The Bike Surgeon, was delivered on Lewis' birthday. But he said he really appreciated the present.
"That was the biggest surprise, getting this," said Lewis. "I normally don't celebrate my birthday or do anything special, other than get some ice cream, so this was pretty awesome."
Lewis, of Maryland Heights, Mo., said he hopes to use his Lindenwood Belleville education to start his own nonprofit organization someday.
"For me personally, the main reason I'm majoring in psychology is because I'm trying to better the world in some manner," Lewis said. "I enjoy working with people, and with Big Brothers Big Sisters, I get to help children. They do a lot of great work and have an amazing community one-on-one program, which is one of the main reasons it attracted me. It's a fun, friendly environment."
Lewis said he didn't know what he would do if he couldn't volunteer at the charity anymore because of a lack of transportation.
"I love it here," Lewis said. "I'm really proud and happy to be working at Big Brothers Big Sisters."