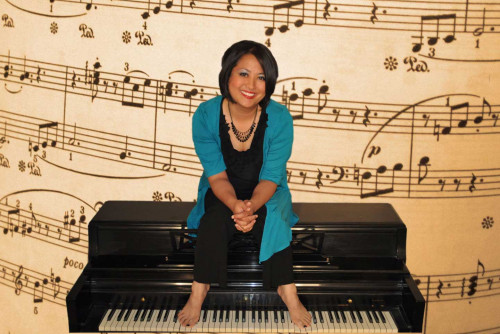 The National Alliance on Mental Illness (NAMI) of Southwestern Illinois is partnering with Lindenwood University-Belleville to host "Tuning Out Stigma, An Artist's Endeavor," presented by award-winning composer Theresa San Luis.
The event will be held Wed., April 12, at 4 p.m. in Lindenwood Auditorium, 2600 W. Main St., Belleville. This event is free and open to the public.
"We're very excited to host this event on our campus to help bring awareness to mental health issues, especially in preparation for Mental Health Awareness Month in May," said Dr. Therese Chavaux-Turnbull, associate professor of counseling. "Our counseling students are particularly interested in being part of this unique and important performance."
During the presentation, San Luis will lead the audience through her personal story of mental illness, describing the challenges she faced and how she overcame the stigma of being a person with mental health issues.
"I am very honored and pleased to partner with higher education institutions like Lindenwood University-Belleville and organizations like NAMI of Southwestern Illinois to convey a message I feel is very pertinent and applicable," said San Luis. "During college, I faced many challenges and difficulties and have hit rock bottom in my life. However, I want people who may someday face a similar illness know that there is no shame in seeking help, and that recovery is a real possibility. I hope to counter the stigma regarding mental illness and emphasize the importance of mental health for everyone."
In this original performance, San Luis will accompany her story with piano and viola. There will also be panel discussion following the performance in which audience members can ask questions. The event is co-sponsored by the Lindenwood Student Counseling and Resource Center and Chi Sigma Iota, the international honor society for students and professionals in counseling.
"NAMI of Southwestern Illinois advocates for empowerment, wellness, and recovery for individuals and families impacted by mental illness, and we are honored to be partnering with Theresa San Luis and Lindenwood University-Belleville," said Jessica Gruneich, J.D., executive director of NAMI of Southwestern Illinois."
San Luis is an SIUE 2015 MPA Graduate and has been interviewed on KSDK and PBS television. She is an award-winning composer and former student of a Chicago Symphony violist, earning her music degree from the University of Notre Dame.
NAMI is a nationwide grassroots advocacy group, representing families and people affected by mental disorders in the United States. To learn more about NAMI of Southwestern Illinois, visit www.namiswi.org.