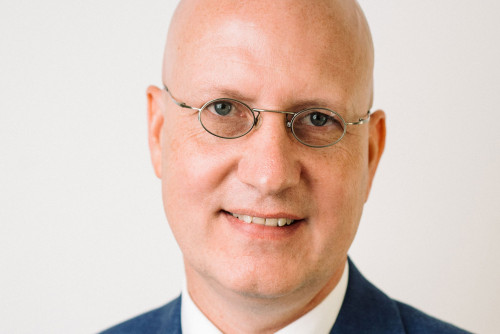 Dr. Jason Dude Lively has been named dean of Lindenwood University's School of Arts, Media, and Communications. He has been in a leadership position in the school for three years as assistant dean and associate dean.
Lively is replacing Dr. Joe Alsobrook, who is taking the position of dean of online programs. Lively has been at Lindenwood University since 2007, initially as a professor and program chair for the Interactive Media & Web Design program in the School of Communications. While serving in this capacity, Lively represented his school for six consecutive years on the Faculty Council, four of them while serving as the chair.
Lively began teaching in higher education in 1998, prior to which he managed production and procurement at a large computer manufacturing firm where he also assisted in application and web development. He earned a Ph.D. in computing technology in education from Nova Southeastern University in Fort Lauderdale, Fla. He also holds an Ed.S. degree in the same area of study from NSU, an MBA in computer information systems from Tarleton State University (Texas A&M), and a BBA in computer information systems from Howard Payne University in Brownwood, Texas.
He said he is looking forward to working with and leading the faculty and staff in the School of Arts, Media, and Communications.
"I am honored that the faculty and staff of the School of Arts, Media, and Communications, rather than opting for a nationwide search, have the confidence in me to lead the school," Lively said. "I look forward to working with this amazing team and am certain that we will accomplish great things in the coming years."
Jason and his wife René reside in St. Charles a short distance from campus and have five daughters, three sons-in law, and six (soon to be seven) grandchildren.