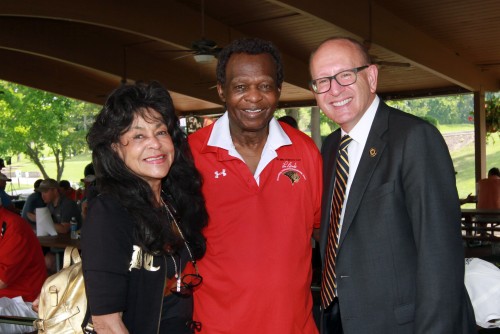 The 24th Annual Lou Brock Golf Classic teed off on August 29 at Whitmoor Country Club in Weldon Springs, Mo. One hundred and eighty golfers took part in the event, which benefitted the Lou Brock Scholarship Fund and Lindenwood University Athletics.
Brock, a longtime St. Louis Cardinal outfielder and Hall of Famer, is a St. Charles resident and a friend of Lindenwood. His wife, Jackie Brock, is a member of Lindenwood's Board of Directors. This was the sixth year that the event has been affiliated with Lindenwood.
This year's event took place on a special date for Brock. It was on the 39th anniversary of the date on which he broke the major league record for stolen bases. The Cardinals were playing San Diego when Brock tied the record of 892 in the first inning and then broke it in seventh inning. He would go on and finish his career with 938 stolen bases, which is still second all-time.
The golf tournament is one of St. Louis' most exclusive events each year. This year's main sponsors were AmerenUE, World Wide Technology, and Rex and Jeanne Sinquefield.
2016 Lou Brock Golf Classic - Photo Gallery
---