The Lindenwood Belleville Lynx (14-21, 9-9) ended a three-game losing streak in historic fashion, beating NCAA Division I Murray State 8-2. This was the first time in Lindenwood Belleville history, in any sport, that a team has beaten a Division I opponent. The Lynx did so behind starting pitcher Dylan Skinner, who threw a complete game in his first career start, allowing only five hits, two walks, and two runs. The Lynx offense had 14 hits, including four for extra bases.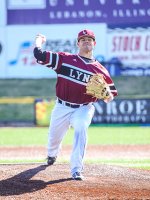 Christian Cavaness followed up a four-hit performance the prior day with three hits, a double, a triple, and a homerun, driving in two and scoring two runs. Skinner also had three hits, going 3-for-4 with a walk, two runs batted in, and two runs scored.
Head coach Logan Johnson was very pleased with what he saw from his team, saying, "Today was a lot of fun for our guys. It's nice to play at a great venue in nice weather, and we came out swinging the bats right away. It's always nice to play with the lead and we were able to score early."
The Lynx jumped out to an early lead and held it, handing Murray State its first loss in three games. Sean Keeney singled in the top of the first and advanced to second on a wild pitch. Skinner picked up his first RBI, driving a 2-1 pitch to center field for a double and giving the Lynx an early lead. Matt Lawver then had a two-out, two-strike single, scoring Skinner to give the Lynx a two-run lead.
In the third, the Lynx extended their lead to five with more two-out hitting. Cavaness collected his first hit of the game, a one-out triple in the third, and scored on a wild pitch in the next at-bat during a walk to Skinner. With two outs, Jaren Linton had his second hit of the day on an 0-2 pitch, and Skinner scored on an error by the right fielder as Linton moved to second base on the play. Dylan Arvai continued the inning with a single to center, scoring Linton and increasing the lead to 5-0.
Skinner retired the Racers' first six batters before walking the leadoff batter in the third inning. After a hit-by-pitch put runners at first and second, a wild pitch moved both base runners up a base. The first Racers run scored on an RBI groundout, cutting the Lynx lead to 5-1.
In the fourth, Pete Colclasure had another two-strike hit for the Lynx, and, again with two-outs, Cavaness hit a 3-1 pitch for his team-leading sixth home run of the year, making the score 7-1.
Skinner hit the first two batters in the fourth inning but did not allow any runs. Following a sacrifice bunt, Skinner got back-to-back fly outs to right field to end the inning.
The Racers got their first hit against Skinner in the fifth with a leadoff single, which was followed by two others to score a run, a double play ended the inning and kept the score at 7-2.
"Dylan Skinner was tremendous today," said Johnson. "He was scheduled to start and go four or five innings, but just kept on rolling and kept them from getting much going offensively. He threw a ton of strikes, kept hitters off balance, and we made every play behind him in one of our most sound defensive games all year."
In the eighth, the Lynx had the bases loaded and nobody out following a single from Hayden Stevens and back-to-back walks to Colclasure and Keeney. Already with a double, a triple, and a home run, Caveness needed only a single to hit for the cycle but struck out for the first out of the inning. Skinner then picked up his second RBI of the day with a single to right to extend the lead to 8-2, the final score.
"We had contributions from a bunch of guys, and 14 hits in a game is impressive, especially against this level of competition," said Johnson. "Christian had another fantastic day at the plate and continues to swing the bat well for us."
Skinner allowed only a single in his final two innings of work, en route to his most dominant pitching performance of the season.
"This is an exciting win for our program," Johnson said. "Our guys proved that they can play at a high level and hopefully this translates into momentum down the stretch for us and we can really build on this win."
The Lynx will travel to Batesville, Ark., to take on (RV) Lyon College in a three-game conference series. The Lynx and Scots will play a doubleheader Friday, April 10, at noon before ending the series on Sat. April 11, beginning at noon.

Article Credit: Dave Dalfonso; Photo Credit: Dave Preston