Lindenwood University-Belleville graduate De'Marcus Terry impressed his supervisors so much during an internship at Walt Disney World near Orlando, Fla., that he's been asked to stay on at the theme park on a permanent basis.
Terry, after leaders of several departments at the giant amusement company engaged in a battle for his services when his internship ended, settled on a job as a competition coordinator at Disney's ESPN Wide World of Sports athletic complex. A May graduate with a bachelor's degree in business administration and a minor in marketing, Terry said he chose that job over the others offered because it closely lines up with his goal of forging a career in sports. He hopes someday to work at a school as an athletic department director.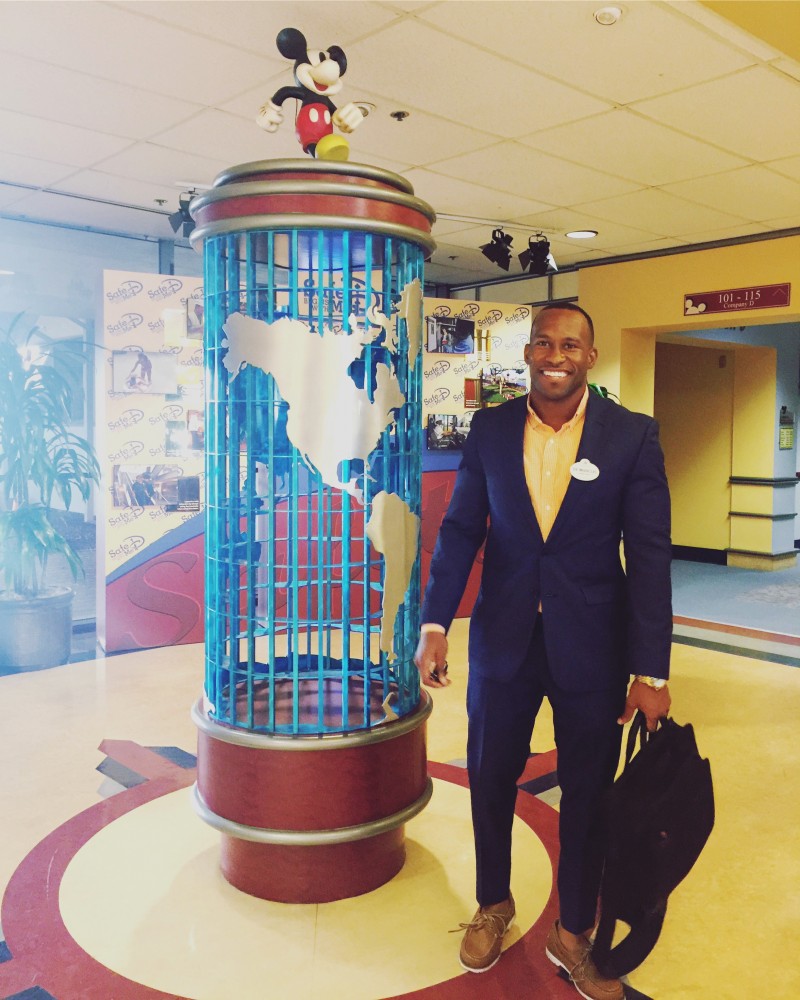 "This has been such a great experience, so much greater than I could have imagined," said Terry, a Florida native, about the internship and the full-time job that followed. "This has truly been a blessing."
In all, Terry was approached about four different permanent positions at Disney before whittling the list down to two and then opting to take his current role. Brandi Copeland, a senior recruiter with Disney, wrote the graduate's former Lindenwood academic advisor to say that Terry was "one of my favorite hires to date." His supervisors credit Terry's popularity as an employee to his thorough nature, gregarious personality and sharp leadership skills. He said Lindenwood Belleville helped him to develop those features and to be the best he can be.
"I had a lot on my plate at Lindenwood," said Terry. "In addition to playing football and being on the track team, I took part in every club and organization I could. There were so many opportunities there, the only time I wasn't busy was when I was asleep. That experience taught me so much and exposed me to so many different things."
Disney's ESPN Wide World of Sports is a 220-acre athletic site built in 1997 near the Walt Disney World amusement park. It includes nine venues for sports competitions, including Champion Field, which serves as the spring training home to the Atlanta Braves of Major League Baseball and seats 9,500 people
The complex also includes HP Fieldhouse, a 70,000-square foot indoor sports venue that hosts events including basketball, gymnastics, and volleyball; youth baseball and softball fields; soccer and football facilities; a tennis stadium; and track and field venues, which will keep Terry busy scheduling events throughout the year.
Terry's role includes organizing sporting events, including tournaments for kids from youth leagues all the way through the college ranks.
"I coordinate all kinds of events on the site," Terry said. "I make sure when they get here that coaches and players get everything they need. It's my job to make sure everything is taken care of to accommodate everyone the best we can."