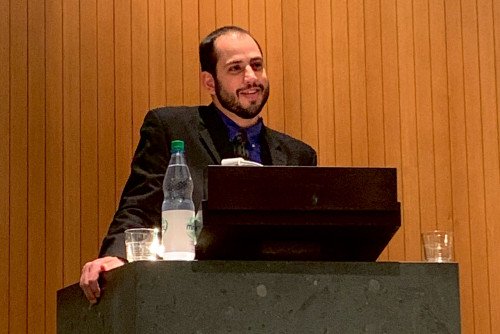 Dr. W. Travis McMaken, associate professor of religion and assistant dean of humanities at Lindenwood University, delivered a public lecture, "'Freedom Is Not Free': Karl Barth and American Politics" in Hanover, Germany, on Dec. 10, 2019.
The lecture was part of a Ringvorlesung (lecture series) organized by the Institute of Theology at Gottfried Wilhelm Leibniz University in Hanover to commemorate the centenary of Protestant theologian Karl Barth's publication of his Epistle to the Romans, which was very influential in Germany during the interwar period.
"The fact that the Gottfried Wilhelm Leibniz University in Germany invited Dr. McMaken to lecture on Barth points to both the high quality of his scholarship and the competitive level of education that we offer our students," said Dr. Kathi Vosevich, Lindenwood's dean of humanities. "This accomplishment helps to underscore the academic and international reputation of the university and is an incredible honor for Travis. We are all extremely proud of him."
McMaken has an impressive list of ten scholarly articles, three books with a fourth on the way, and more than thirty book reviews. His most recent article was published in the International Journal of Public Theology: "Theory and Praxis in Theology 'after' Karl Barth." McMaken presented an earlier version of this article at the annual meeting of the American Academy of Religion in 2016.