The Lindenwood University–Belleville men's basketball team and Head Coach Scott Spinner made history on March 12 when the NAIA announced the Lynx had received a bid to the NAIA National Championship in Kansas City, Mo.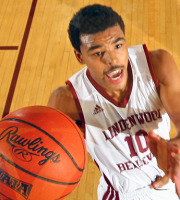 After finishing the season 22-8, which included an 11-game winning streak, the Lynx are headed to the NAIA National Championships for the first in program history. During the streak, the Lynx have knocked off previously No.-1 and No.-3 ranked Freed–Hardeman by a combined three points. The national championship berth marks the first time that an athletic program at Lindenwood Belleville will take part in an NAIA National Championship.
"We are very excited to be competing in the National Tournament," Spinner said. "To achieve this in our first year eligible for post-season competition is a very positive step for our program."
The Lynx are led by Craig Anderson, who is averaging 21.4 points per game this season. Anderson was recently named to the A.I.I. All-Tournament Team after picking 35 points and eight rebounds in the Lynx's loss to Life University. On the season, Anderson has picked up three double-doubles and has scored in double figures in 28 out of 29 games. Anderson has scored at least 25 points in 11 games this season. Currently Anderson ranks 10th in the country in points per game, 14th in total scoring (620), and 26th in steals per game (1.9).
Lawson Warren is third on the team in scoring, averaging 11.3 points per game. Warren is credited with three double-doubles this season.
On March 12, the NAIA announced that the Lynx will take on the No.-2 seed University of Pikeville in their first round matchup. Game time is set for 12:30 p.m. Thursday, March 20. The Bears enter the first-round contest sporting a 30-2 record and are winners of the Mid-South regular season and conference tournament championship.
The matchup on March 20 will be the first meeting between these two teams, and the winner will take on the winner of the No.-18 Wiley and St. Gregory's matchup. Game time for the second round matchup is set for Friday, March 21, at 12:30 p.m.