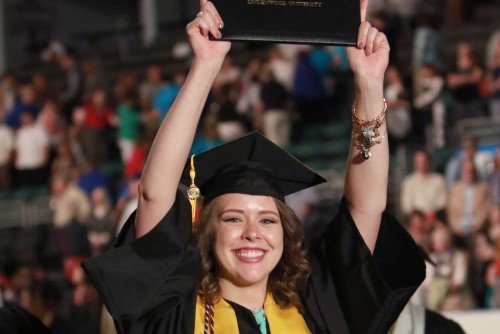 More than 1,300 undergraduate and graduate students from Lindenwood University walked across the stage Friday and Saturday at the Saint Charles Family Arena during commencement 2017.
The graduates and their guests were the first to experience a new-look ceremony, highlighted by a 30-foot video screen, and new stage pieces that focused on the students as they reached the end of their academic journeys.
There was a capacity crowd at Saturday evening's ceremony for undergraduates as 851 students walked across the stage. More than 450 graduated Friday evening.
The large video screen played pre-recorded videos and highlighted the students graduating, and the stage held new pieces that included a large backdrop of the historic Alumnae Gate. Special lighting also placed a sharper focus on the graduates.
Professor Emily Jones of the theatre department said "Families were able to see their students very prominently as they walked across the stage to get their diplomas, We took the university's brand, 'Like No Other,' and applied it to the ceremony as a celebration that still respects the academic traditions of commencement."
The music before and during the ceremonies was pre-recorded by Lindenwood's premier A Capella group, Voices Only. The script was streamlined and focused on the awarding of the degrees. Jones and Stu Hollis, also of the theatre department, led the combined efforts of many departments to accomplish the changes.