Lindenwood University-Belleville will hold its second graduation ceremony in school history on Sunday, May 18, at 2 p.m. in the Gateway Center in Collinsville, Ill. Approximately 500 students are invited to participate in this year's commencement.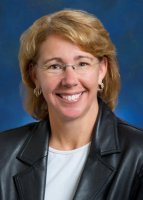 Dr. Sandra H. Magnus, former NASA astronaut and Belleville native, has been selected as the 2014 Commencement speaker for Lindenwood University-Belleville.
"We could not be more pleased to have Dr. Magnus as our honored guest speaker at Lindenwood University-Belleville's 2014 Commencement Ceremony," said Dr. Jerry Bladdick, president of the campus. "Dr. Magnus' outstanding accomplishments in the aerospace field are a testament to her high level of talent and ambition and love of lifelong learning, qualities that we at Lindenwood hold with the utmost respect. Her impressive achievements and pioneering spirit in a traditionally male-dominated field demonstrate the level of perseverance that we seek to cultivate in our graduates as they leave behind their own legacy. We are truly grateful to Dr. Magnus for being our Commencement speaker, and we are thrilled to welcome her back to her hometown of Belleville."
Magnus currently serves as executive director for the American Institute of Aeronautics and Astronautics (AIAA), the world's largest technical society dedicated to the global aerospace profession, with more than 35,000 individual members in 79 countries.
Born and raised in Belleville, Ill., Magnus attended the Missouri University of Science and Technology, graduating in 1986 with a degree in physics and in 1990 with a master's degree in electrical engineering. She also holds a PhD from the School of Materials Science and Engineering at Georgia Institute of Technology (1996).
Selected to the NASA Astronaut Corps in April 1996, Magnus flew in space on the STS-112 shuttle mission in 2002 and on the final shuttle flight, STS-135, in 2011. In addition, she flew to the International Space Station on STS-126 in November 2008, served as flight engineer and science officer on Expedition 18, and returned home on STS-119 after four and a half months on board. Following her assignment on the station, she served at NASA Headquarters in the Exploration Systems Mission Directorate. Her last duty at NASA, after STS-135, was as the deputy chief of the Astronaut Office.
While at NASA, Magnus worked extensively with the international community, including the European Space Agency (ESA) and the National Space Development Agency of Japan (NASDA), as well as with Brazil on facility-type payloads. She also spent time in Russia developing and integrating operational products and procedures for the International Space Station.
Before joining NASA, Magnus worked for McDonnell Douglas Aircraft Company from 1986 to 1991 as a stealth engineer. While at McDonnell Douglas, she worked on internal research and development and on the Navy's A-12 Attack Aircraft program, studying the effectiveness of radar signature reduction techniques.
Magnus has received numerous awards, including the NASA Space Flight Medal, the NASA Distinguished Service Medal, the NASA Exceptional Service Medal, and the 40 at 40 Award given to former collegiate women athletes to recognize the impact of Title IX.
"I am looking forward to attending the second-ever Commencement on the Lindenwood Belleville campus," Magnus said. "Of course, having attended Belleville West High School, I am well acquainted with the facility. It is great to see wonderful educational opportunities available to the metro-East population."
Founded in 1827, Lindenwood University is a dynamic four-year liberal arts institution based in St. Charles, Mo. In 2003, the university purchased the former Belleville West High School in Belleville, Ill., as an extension site to host evening classes for working adults. Since then, Lindenwood University-Belleville has blossomed into a full-service campus offering more than 30 undergraduate and graduate degrees in day and evening formats, as well as 29 highly competitive athletics programs. Lindenwood Belleville currently has a student body of approximately 2,000 with an on-campus housing capacity of 800.