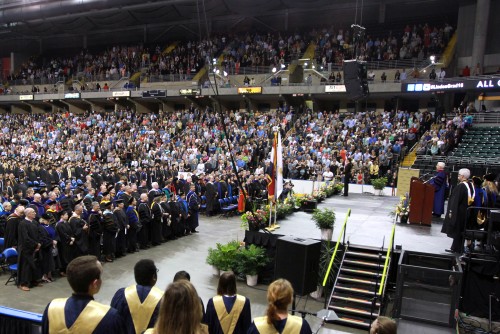 More than 1,000 graduate and undergraduate degrees will be conferred at Lindenwood University's December 2016 St. Charles Commencement, scheduled for 10 a.m. Saturday, Dec. 10, at St. Charles Family Arena.
The university will confer 533 bachelor's degrees, 422 master's degrees, 50 Educational Specialist degrees, and 29 Doctor of Education degrees, posted in September, October, and December. Nearly 800 graduates will take part in the ceremony, including 425 undergraduate students and 370 graduate students.
The ceremony will include speeches by Lindenwood University System President Michael Shonrock, Provost Marilyn Abbott, and Lindenwood Board Chairman Jim J. Shoemake, as well as performances by the Lindenwood University Symphony Orchestra and the university's acclaimed vocal ensemble, Voices Only.
The Family Arena is located at 2002 Arena Parkway, 1 ¼ miles south of I-70 and Fifth Street. Guests do not need tickets to be admitted to the event.
For the first time, Lindenwood University-Belleville will hold its own December Commencement, which is scheduled for 2 p.m. the following day, Sunday, Dec. 11, at the Gateway Center in Collinsville, Ill.
Both campuses also hold commencement exercises in May for graduate and undergraduate students.