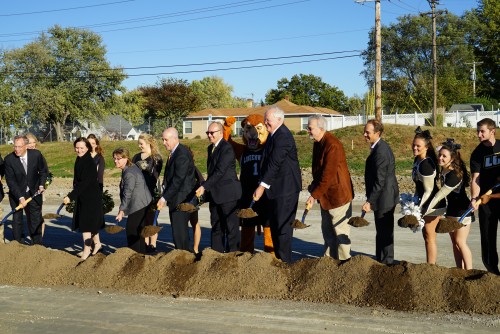 A number of Lindenwood University officials, including President Michael Shonrock, joined representatives from SSM Health and the City of St. Charles in a groundbreaking ceremony at the future site of the new St. Charles Post Office on Thursday afternoon, Oct. 29, culminating an effort approximately 10 years in the making.
The Post Office will be located behind the Schnucks store in the University Commons development, across the First Capitol Drive from Lindenwood's St. Charles campus on 3.83 acres of land donated by the university, moving from its current location at 112 S. Fifth Street.
Construction of the $5.2 million facility is being funded by SSM Health and the St. Charles County Road Board. It will measure roughly 21,500 square feet with a projected completion date of June 2016.
In addition to Shonrock, Vice Presidents Julie Mueller and Ryan Guffey, Community Relations Director Charlsie Floyd, and board members John Hammond, Jerry Scheidegger, David Cosby, and Don Paule were among the Lindenwood personnel present at the ceremony.
As part of an exchange agreement, SSM Health St. Joseph Hospital – St. Charles will acquire the existing post office property and use the site for future hospital growth opportunities to ultimately improve health care for its community. It will serve as a key component of the City of St. Charles' planned First Capitol/Fifth Street hospital district.
"We'd like to thank Lindenwood University, the City of St. Charles, and all the individuals who have played a role in this process over the last 10-plus years," said St. Joseph Hospital – St. Charles President Mike Bowers.
The new St. Charles Post Office is being designed by architecture firm The Lawrence Group and constructed by Alberici Healthcare.