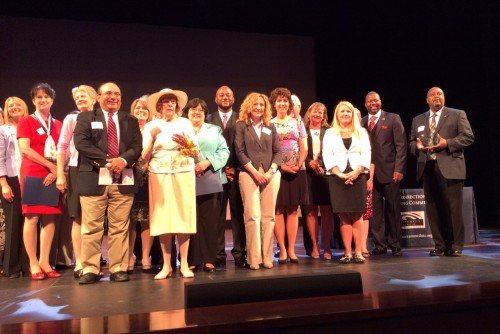 Lindenwood University's Nonprofit Administration Program was presented a Community Builder Award by the Community Council of St. Charles County at a reception on Thursday, June 5, 2014, at the school.
The award is intended to recognize individuals, groups, and organizations that exhibit the collaborative spirit that makes the nonprofit sector effective, according to the organization. The awards were presented at a luncheon at the university's J. Scheidegger Center for the Arts; other recipients included the Francis Howell School District, the Rotary Clubs of St. Charles County, Sts. Joachim and Ann Care Service, and No Hunger Holiday. Orvin Kimbrough, president and CEO of United Way of Greater St. Louis, was the keynote speaker.
"The award means that our program is seen as coming alongside of the community to identify and address community needs," said Julie Turner, chair of the university's Nonprofit Administration Program. "As well, we are preparing emerging leaders who will go on to strengthen our community through the application of their gifts and knowledge. I can think of no greater compliment than to be seen as a partner."
The Nonprofit Administration Program operates within the Lindenwood School of Human Services, educating current and future professionals in numerous aspects of a variety of nonprofit fields, including youth and elderly services, the arts, education, recreation activities, and more. The program offers undergraduate and graduate degrees, including a new five-year program in which students earn a bachelor's and a master's.
The Community Council, which is celebrating 60 years of existence this year, works with the nonprofit community, government agencies, and business leaders to strengthen the human service network in St. Charles, Lincoln, and Warren counties.